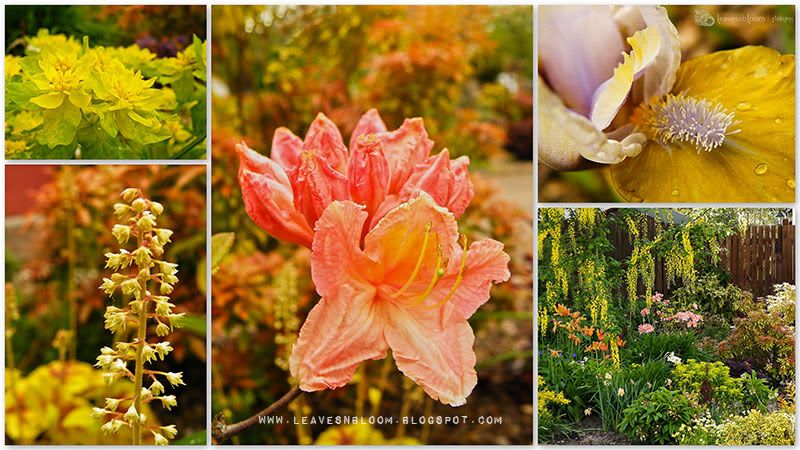 It's May's
Garden Bloggers Bloom Day
and since most of you today will be busy blog hopping and time is precious I've decided just to show my favourite plants from one small area of the garden. Last year I had just redesigned this featured border and I'm delighted to see how well all of the plants have settled into their new homes.  I really like the shades of orange, red, yellow, green and burgundy that grow in this border and that's just the foliage I'm talking about. The border faces north, east and west but during the summer months is lightly shaded overhead by the
Laburnum
x watereri 'Vossii' tree.
Azalea mollis
This is a lost label Azalea mollis which has been in the garden for 8 years – it has no scent unlike the Azalea mollis 'Luteum' which grows in another part of the garden.  It's colouring is nicely complimented by the colourful spring foliage of the Pieris 'Forest Flame' in the background.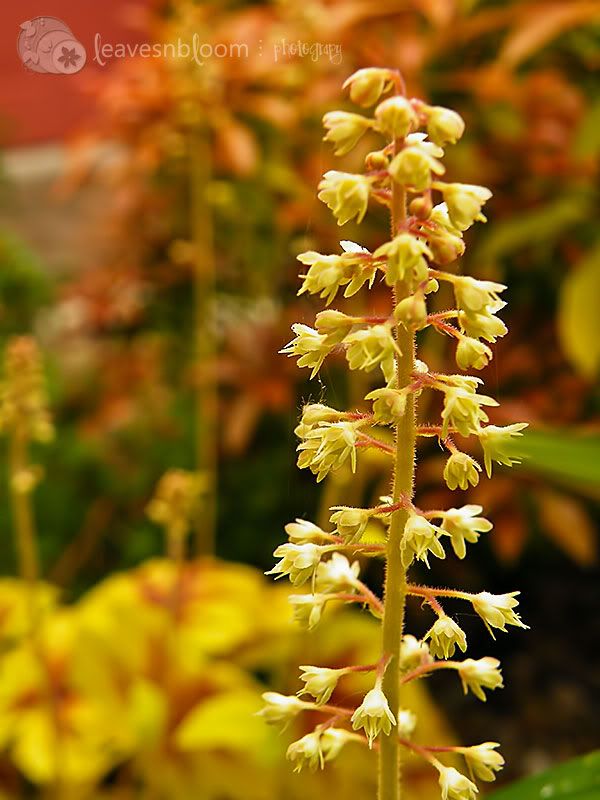 Heuchera 'Spotlight'
There are many heucheras in this border and this one is called 'Spotlight'. The flowers are just starting to bloom and it loves the lightly shaded conditions here as the leaves will scorch in full sun.  You can just about make out it's chartreuse and red marked leaves in the background.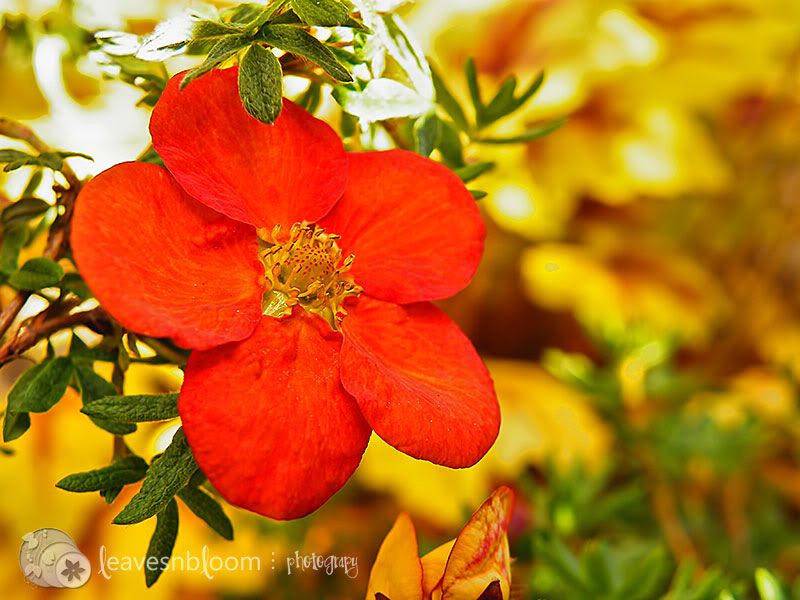 Potentilla fruiticosa 'Red Ace'
Alongside the Heuchera  'Spotlight'  grows Potentilla fruticosa 'Red Ace' which is a small compact shrub that now will be in flower until November with its vermilion red flowers.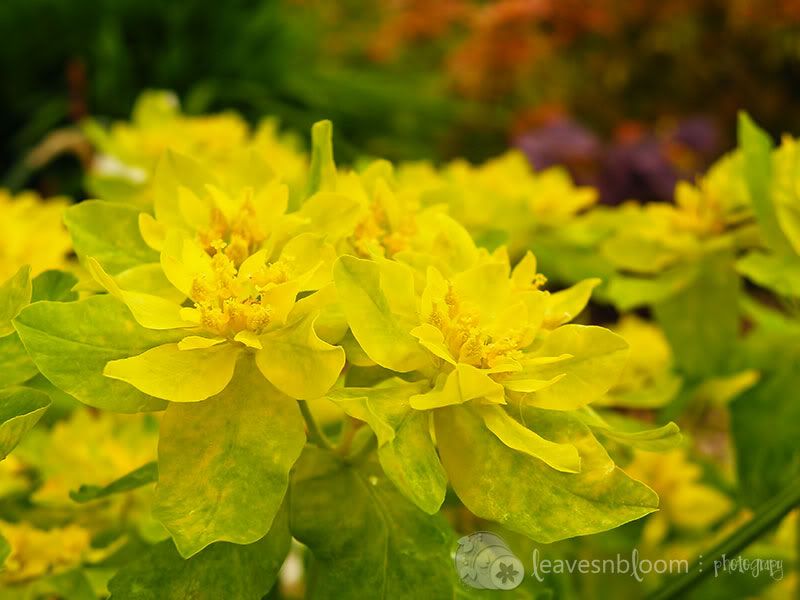 Euphorbia polychroma
Euphorbia polychroma was a new addition to the garden last year and I bought a few plants for other parts of the garden as well.  It's the acidic coloured bracts rather than the tiny little yellow flowers that make the most impact at this time of year.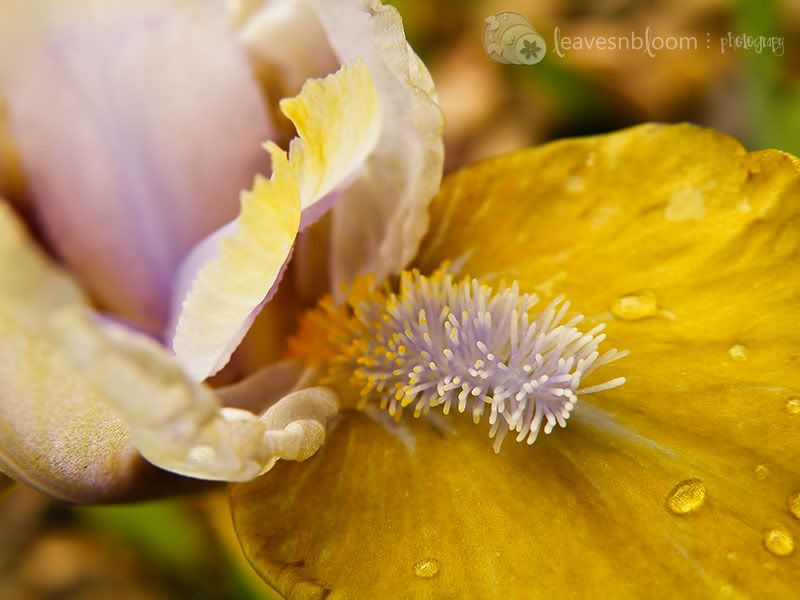 Iris pumila
The little dwarf Iris pumila flowers are just about over now but I admire their colours and how their falls glisten like gold when the sun shines on them.
Laburnum x watereri 'Vossii' : photo taken 13th May –  Hellebores  and Narcissi  are fading while a large sweeping drift of Geranium 'Johnston's Blue' is just begining  to flower.
Just as the Ballerina tulips fade The Laburnum tree will now be the main focus of this border for the next few weeks. It certainly is well described as the golden rain tree and its display just gets better every year.
Poached Egg flowers / Limanthes douglassi
.
The Limanthes douglasii is a native flower for many of you and it could become a weed here in the garden if I wasn't ruthless with its offspring.  It grows in an area that is baked by the summer sun and where the soil isn't so good next to the boundary with the public footpath.  In the background is another tough plant for those conditions – the variegated Euonymus fortunei 'Emerald gaiety 'n gold'.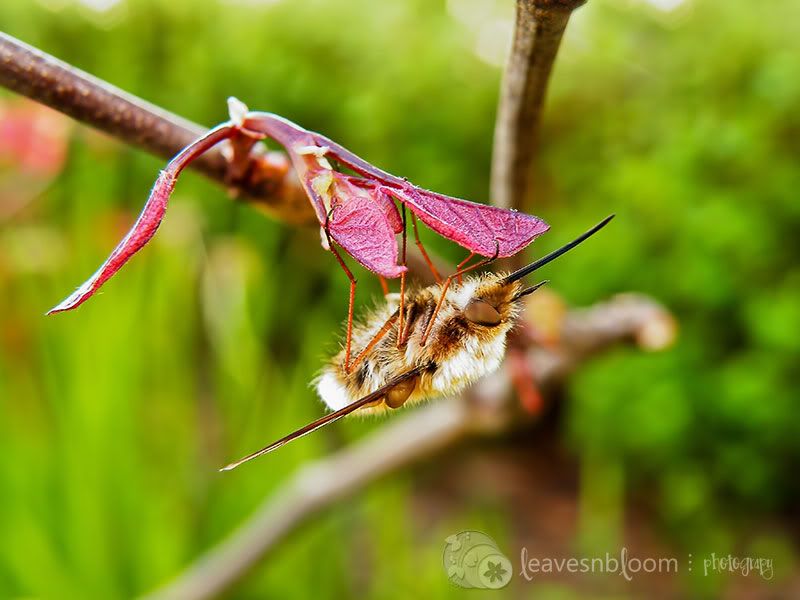 Bee Fly / Bombylius major at rest on a Cercis canadensis 'Forest Pansy'
I thought I had lost my Cercis canadensis 'Forest Pansy' over the winter but finally some tiny burgundy heart shaped leaves have emerged.  I was about to photograph some of them for today's post when I saw a Bee Fly – a little insect I've never seen before in my garden.  It was totally oblivious to me and my lens and he/she just clung upside down resting on the leaves.  The bee fly has a long proboscis for drinking nectar from deep flowers like primroses and violets. (see related links at end of this post for further Bee-Fly photos)
Update: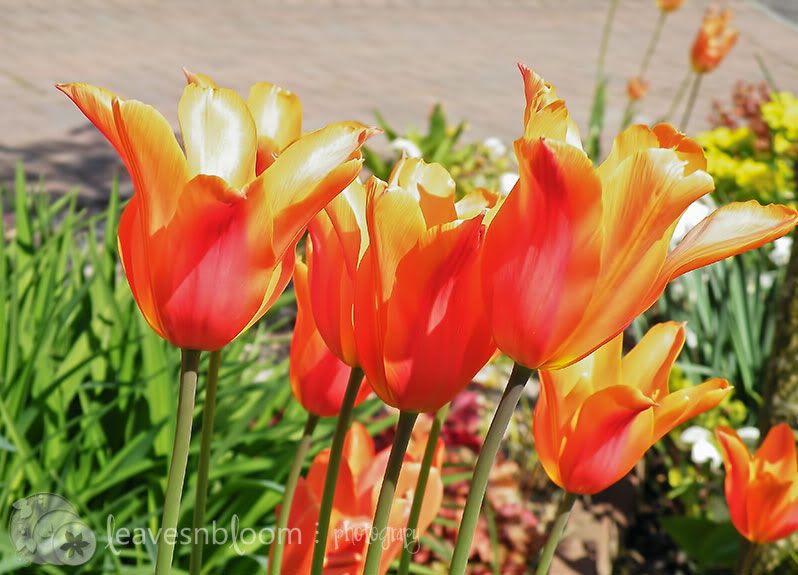 Scented Ballerina Tulips
Orange seems to have been a theme here this week though with all the downtime on blogger I'm not sure if you missed my earlier posts of the week.  Sadly my Ballerina tulips were fading fast in this border by the time the 15th of the month was approaching but click on this link too see more pictures of these perennial Ballerina scented tulip bulbs.
I also was out hunting for butterfly eggs on Wednesday and found some belonging to the Orange tip butterfly whose larvae are famed for their cannibalistic tendencies.