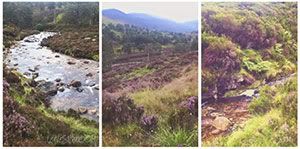 Scotland not only is famous for the thistle but also for its

autumn flowering highland heather

- Calluna vulgaris which is a Scottish wildflower.
Calluna from the Greek 'Kallune' meaning to clean or brush as the twigs were used for making brooms and vulgaris from Latin, meaning common.
It's very hardy and each plant has a life expectancy of about 40-50 years. The plant also very resilient to the grazing from the roe deer, reindeer, rabbits, mountain hares, grouse, and cattle along with being the most favourite habitat of the infamous Scottish midge Culicoides impuctatus
.
Heather growing along the Pinewoods of Glen Quoich
The best time of year to see the

heather in bloom is at the end of August and the first few weeks of September but normally you have to go well off the beaten track to see it at its finest. It carpets the highland landscape and can range in colours from lilac to purple.
"No' a flow'r that man can gather. ...can beat the bonnie, bloomin' heather"
Our 16yr old spent last weekend in the remoteness and emptiness of the Eastern Cairngorm mountains for his silver Duke of Edinburgh expedition and I asked him to take some photos so that I could share them here on leavesnbloom. (These were all taken on an ipod touch until the battery expired).
"Land of the hill and heather, Land of the awful weather, Land where the midges gather - Scotland the brave"
Their mobile phones are taken away from them once the expedition commences and parents have no contact over the whole weekend unless there is an emergency. They spent the long weekend camping outside Braemar along Glen Quoich and hiking to the summit of Creag Bhalg. The area is in Aberdeenshire though it's well to the east from where Alistair blogs from.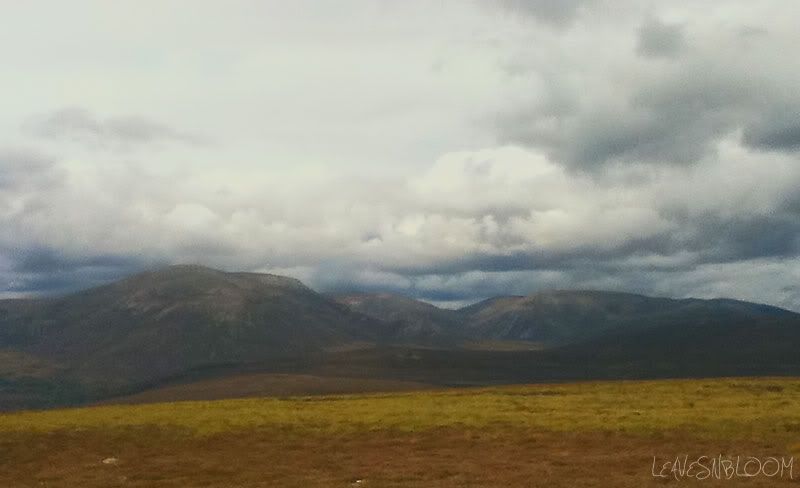 In his hand are the depths of the earth, and the mountain peaks belong to him. Psalm 95:4
Bathroom facilities are bringing a garden trowel with you, the roll of toilet paper and digging a hole, drinking water is provided from streams (boiled), cooking is over a campfire and streams have to be crossed on foot. Even though he had to
hike through the thunder and lightning most of Friday, constantly
battling with the clouds of blood thirsty Scottish midges especially when they got into the tent and avoiding the ticks he still managed to take some lovely photographs.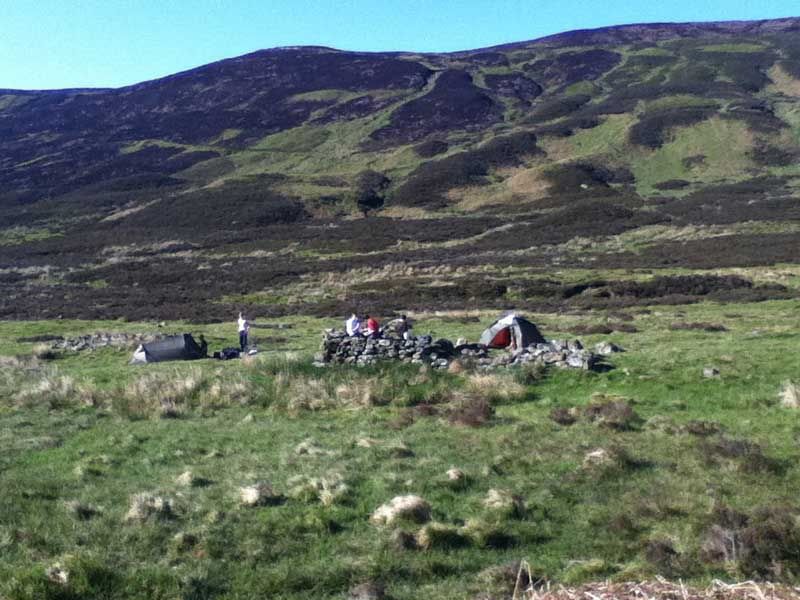 No photos of August's camp but this is was the camp on the practice weekend expedition in June
Here's the Itinerary:
Day 1 - Linn of Dee camping at Derry lodge.
Day 2 -

Glen Quoich

via Creag Bhalg (668m Graham).
Day 3 - Walk to Invercauld Bridge and a to visit Braemar Castle on Royal Deeside.
The views from the Graham Creag Bhalg over the Cairngorm mountains which soon will be covered in snow.
What's a Graham?
The Munros are the highest of Scotland's mountains, 283 mountain tops named after the man who first catalogued them, Sir Hugh Munro and they are among the finest mountains in Scotland. The Corbetts are the equivalent mountains, 221 in total with altitudes between 2500ft and 3000ft and the Grahams, 224 in total are between 2000ft and 2500ft. Whilst smaller in stature many Corbetts and Grahams rival Munros for walking and climbing.
Well on Sunday evening he finally arrived home with just a few blisters, tired, hungry and with lots of tales to tell. He checked for ticks on his clothes and then sat down to a very late Sunday dinner. The kit then got washed and whatever I managed to get into that wash it turned every thing a blue colour. It wasn't heather dye but 1 pair of trousers that was the culprit!
Interested in this topic?
You might enjoy these articles that I've written
Meet the only herd of Reindeer in Britain
The Giant Leopards Bane
Thanks for stopping by today and I would love to hear from you. Please feel free to leave any questions or feedback in the comments section.

Rosie is a passionate

wildlife gardener

,
perthshire photographer
and writer.
She enjoys soaking up nature in her own garden and is easily distracted from doing the weeding by anything that buzzes, creeps, crawls or flutters. Connect with her on
Google Plus
and
Facebook
.
© 2013 Leavesnbloom
~ All Rights Reserved.
Like this post? Be awesome and share it!
It only takes a moment to click a handy button below and share with others.