I've updated this post in January 2014 to show the new Virante author rank listings.
What if spammers scrapped all your content? what if those scrape sites were higher up the search engine pages than your original unique blog post and were attracting search engine traffic rather than your original article? Well last year I wrote a very concise blog post over on the Nature Blog Network blog where I gave the readers some tips and lots of links on how to discourage those thieves in taking measures like the following:
By using a short feed rather than a full feed.

By adding an additional piece of text to the blog post by adding copyright and subscription information (like at the bottom of this post).

Watermarking your images with your blog address/name.

Using copyright meta data on your images and using Tineye to find the culprits and more.............!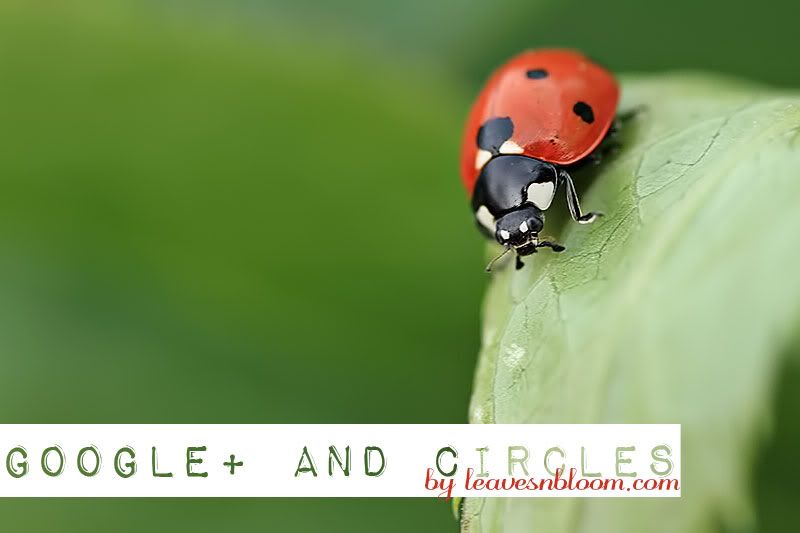 You're welcome to pin this picture of our

UK native ladybird

on pinterest to lead others to the content of this post
It's nice to know that someone is actually listening to us isn't it? In the past few days Pinterest have listened to our concerns about their Terms of Service and new ones are soon to be implemented and so too have Google in listening to our complaints about feed scrapers. They implemented their Panda 2.2 algorithm update last summer which was specifically targeted at blog scraper sites and they even asked us to fill in a spreadsheet with known scrapper offenders details.
Moving forward Google also want those of us who write content for the web to start using the

Authorship Markup Scheme.
They started the pilot scheme in summer 2011 with some large websites and now they are slowly connecting other authors with their unique content.
So How could this work in our favour?
if Google crawls both pages and finds authorship markup on one, it might recognize that as the original page, thus keeping the scrapers from outranking you.
So if you want your unique content to be considered in this scheme then it all starts with having a Google + account.
Have you a google + account? If not here's a helpful video in setting it up.
So what's next I hear you ask?
#1 Now one of the criteria for the authorship markup is to have "a good, recognizable headshot as your profile photo" so you need to upload one for your profile photograph as this will show in the search results as an indicator of trust. Who you are as an individual seems to be becoming more and more important with google these days.............but I know many won't like using a photograph of themselves. Google will check your profile photo before allowing you in the scheme.....for now anyway but that might change as there was such an uproar over using personal names on google + at first - but now they seem more relaxed about that.
#2 Does your blog and your google + talk to one another yet? Does your blog homepage have a button linking your readers to your google + account like what I have in my blog footer? If you haven't installed a button yet click here.
#3 Once you've chosen the type of button for your blog and copied the snippet of code you need to go back into the page elements part of your blog dashboard and add a new html/javascript widget. Add that snippet of code and save and then decide whether you want the widget in your sidebar or footer of blog.
#4 Then while you're still in blogger make sure that every time you write a blog post that it says 'by .................' in my case under my post titles it says 'by Rosie leavesnbloom'. This is important to do so that your search result looks good in the future.
OK are you all still with me? Now once you've done all of that you need to place a reciprocal link on your google + profile.
#5 Click on the blue edit button of your google + profile and go to the Contributor section on the right hand side of your about me page and add your blog URL to that section.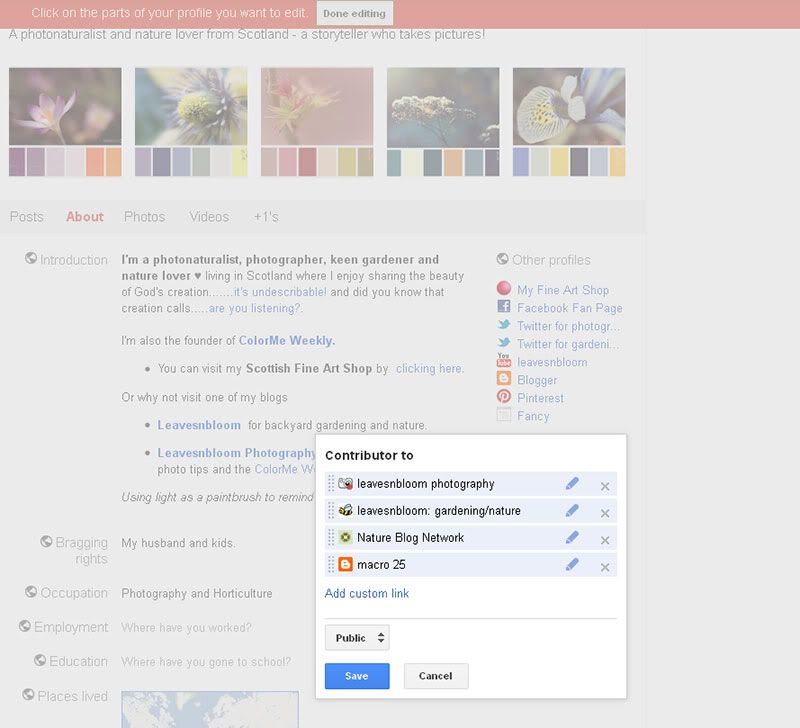 a note to my fellow team members on Nature Blog Network: we've still to get this set up for each of our author pages on wordpress!
Now you're talking to each other but we'll find out for sure very soon!
You're about to hear of a new tool and it's called Google Rich Snippets and this is the tool that lets you check that your profile and blog are really talking to each other.
#6 Copy the URL of one of your blog posts and paste it here

and then press preview. Here's mine though I've changed my profile photograph since taking this screenshot.
You'll see that google will have verified that I am the author of this blog post so if this post is copied then google will know who the original content was written by.
#7 Then you scroll down the page and click to see what the page will look like in an extracted rich snippet data as visible by a custom search engine. At first when I first checked mine out I had the following error Warning: Missing required field "updated". Did you get an error like that? If you get a similar error then do a search on google for 'warning missing required field' updated' or similar error and you'll get a load of sites telling you exactly how to fix it in your template for either wordpress or blogger...........but just remember as always to download your template first in case you make a mistake.
Phew............you'll be glad we're nearly there!
#8 Go back to the Rich Snippet Tool - re type your blog post URL and hopefully this time there won't be any errors.
#9 Once you've done everything above then you need to inform Google that you want to be considered for the authorship markup scheme and it's easy to do by confirming the information on this form.
Now you just have to wait for google to add you to the scheme and then after that it could take up to a month before you see your results showing in the search engines the way they were showing on your rich snippets tool. There's no guarantee that they are going to show up that way at all just now as it's still relatively new but eventually it will become the norm as google try to promote Google profiles rather than Facebook profiles.
Edit to Add - It was confirmed on 26th March at a Google event in Saudi Arabia that Google is about to launch a new commenting system that will tie in with the Google+ platform in the very near future. Google Plus comments are now available on blogger blogs.
Edit to Add Things have changed around google and it's much easier now to get authorship of your blog posts. If you have a blogger blog then link up your blog to either your G+ personal profile or your G+ business/web page in the blogger dashboard though you'll still need to make sure that your blog is added to your G+ profile. You'll then see that your name on your blog is hyperlinked to your G+ account.
You can also now add your author profile from G+ to the bottom of your blog posts - like mine below.
Just go to your blogger dashboard and go to page layout.

Click on posts and at the very bottom of the list you can select to show your author profile from G+
#Tip The most important thing to do is to share your blog post on G+ as soon as possible as it's the quickest way for the google bots to get notified that you've just published fresh new content on your blog.
Authority
You can now also find out what your Virante author rank is from http://beta.authorrank.org created by the social media guru Mark Traphagen.
My author rank 6.69 as at 20th January 2014
Did you find this useful? Let me know how you feel about this........... is it the right way to go? Respond in the comment section below and please share this post on your social networks.
Interested in this topic?
You might enjoy another article I've written called
Thanks for stopping by today and I would love to hear from you. Please feel free to leave any questions or feedback in the comments section.