Let me introduce you to the Muddy Boots Shade Garden. It's a part of the leavesnbloom garden that has quite a reputation and if a plant can survive a winter here then it deserves another medal.....and a blog post! Primula japonica 'Millers Crimson'

RHS AGM

grows profusely in this corner and it's a great choice for a moist and shady area of your garden that has humus rich neutral to acid soil.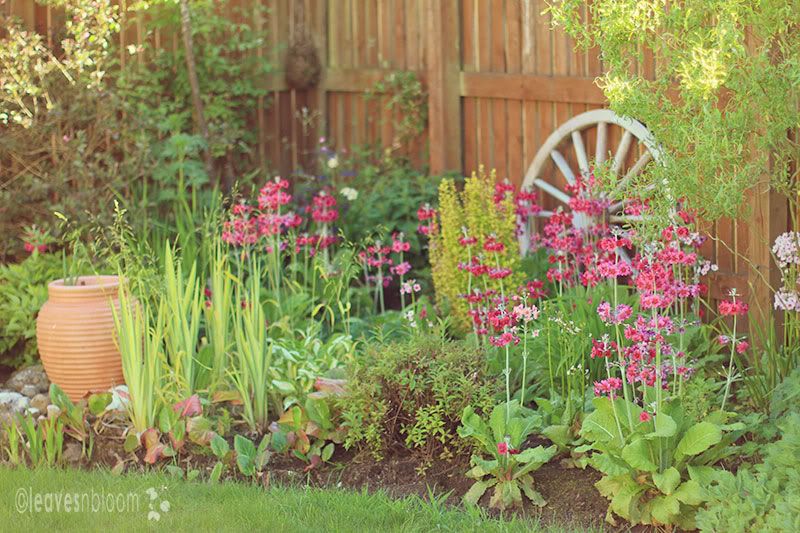 Muddy Boots Shade Garden with the Candelabra primrose Primula japonica 'Millers Crimson' RHS AGM
The Candelabra primrose Primula japonica species love to have wet feet with their flowers in the shade and have been the perfect plants to hybridize in this border. They can cope with being in the coldest and wettest part of the garden and after the 2009 and 2010 Scottish winters they have really proved how hardy they can be here in the UK. ( Zone 3-8 in the USA from what I've read though would really like to have confirmation on this for my US readers).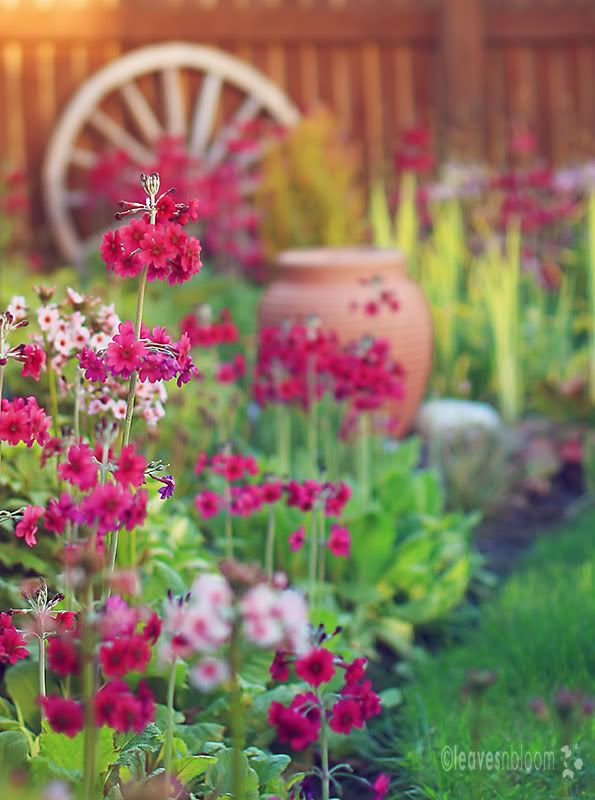 Proliferae, candelabra type of

moisture loving herbaceous perennial
The Flowers
Primula japonica 'Millers Crimson' blooms from the bottom to the top on stout 18 inch silvery stems from the middle of May well into June for about 6 weeks or so.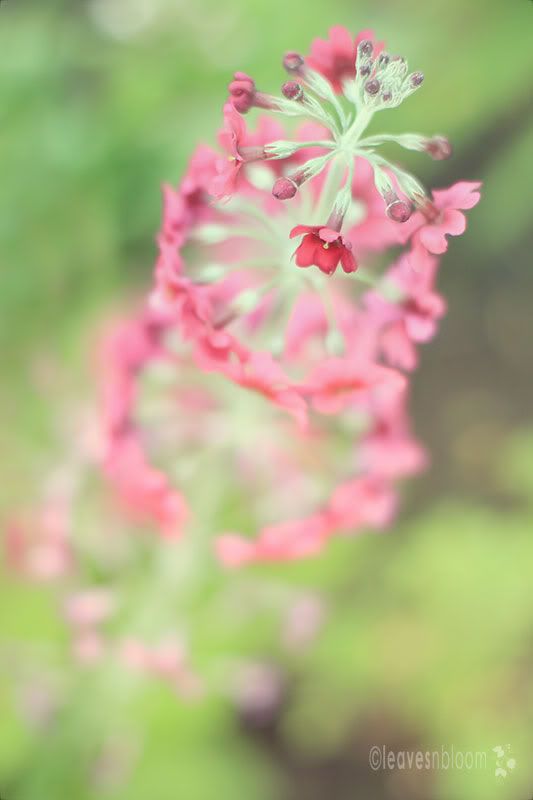 candelabrum
Each of these stems has about 6 tiers of whorls held aloft at intervals all up the stem.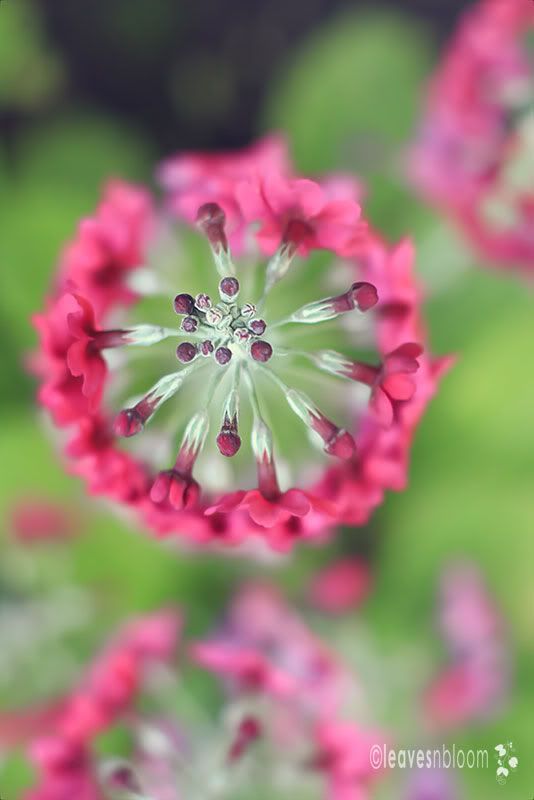 each whorl contains about 9 flowers
While each of those whorls contains about 9 individual primrose looking flowers each with a fragrance that lasts for about one week.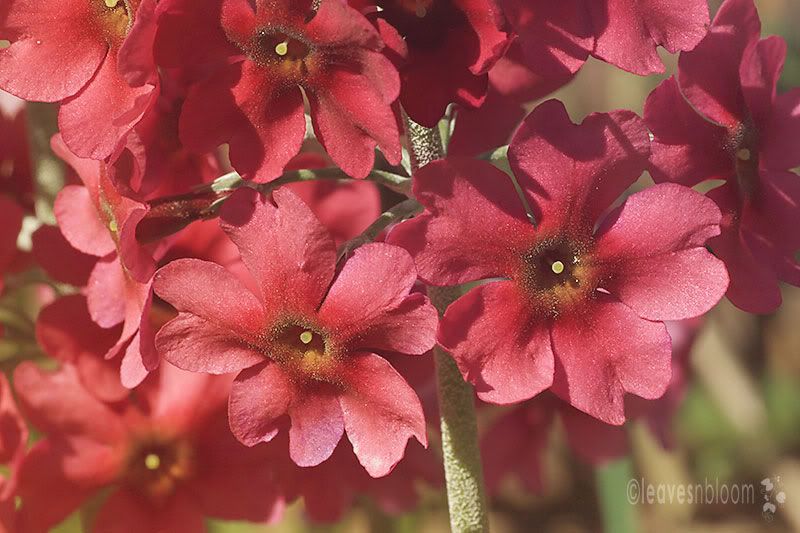 scented candelabra primrose flowers on each whorl
Propagation
Let Primula japonica 'Millers Crimson' liberally hybridize with surrounding primulas and it won't be long until you've a drift of pink, white, red and all the shades in between.
Mine have hybridized with much paler pink Primula japonica 'Apple Blossom'.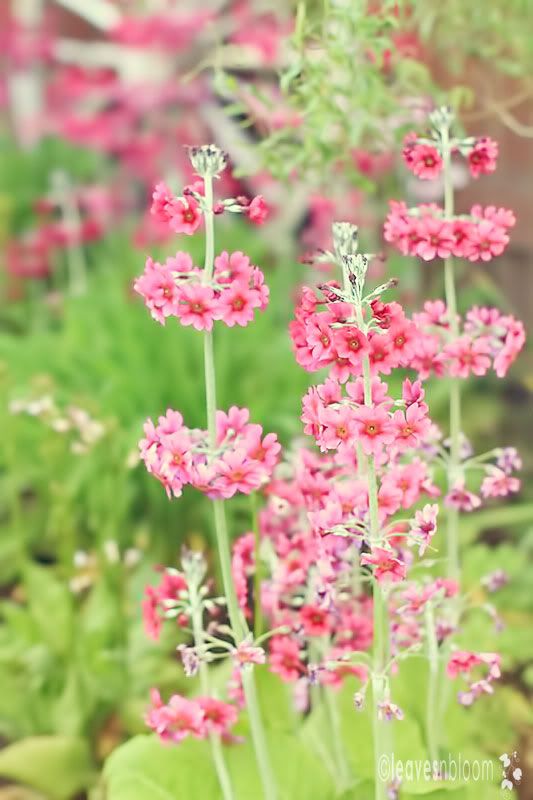 Rosette forming deciduous hybridized candelabra primula
It's got to the stage now where I only let a few of the candelabras self seed - if I let them all then I probably would have to start a primula business as the seeds germinate very quickly..........even into the lawn!
It also can be propagated by division in the autumn as it grows into large clumps ...........just make sure you water those new divisions regularly until established.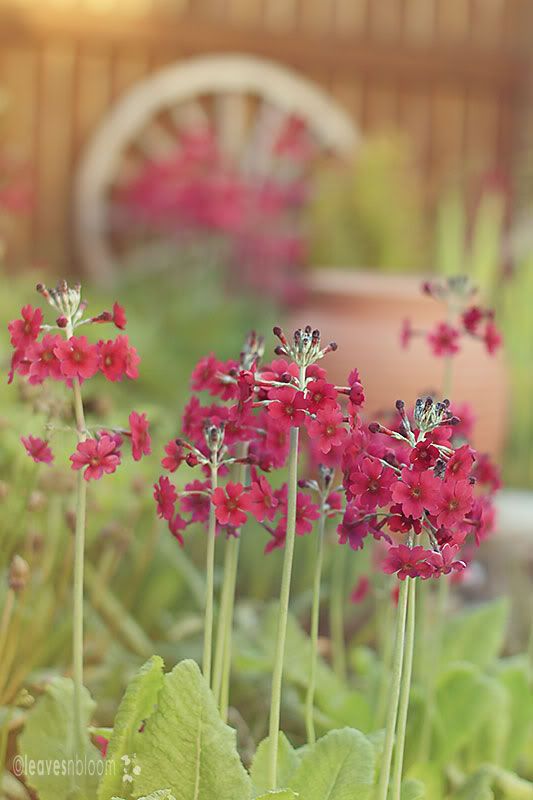 Rosette forming deciduous candelabra Primula japonica
'Millers Crimson'
As a cut flower
They make very unique looking cut flowers with their whorls and silvery stems. The best way to keep them looking good in a vase for about a week is to sear the ends of the stem in boiling water just after being cut.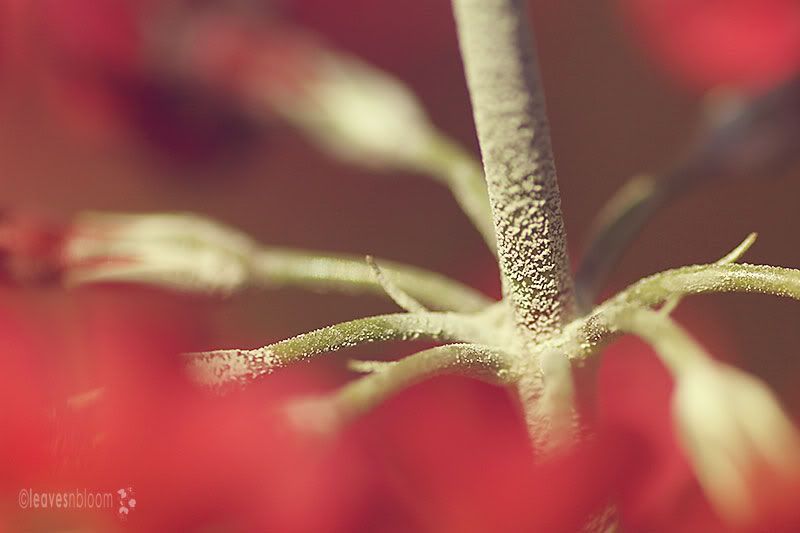 Silvery buds and stems
So if you've got a wet and shady or damp woodland corner like mine then I can thoroughly recommend Primula japonica 'Miller's Crimson' and its offspring to give lots of colour and scent.
Just let it seed all over the place for maximum impact.
What plants have you found that grow well in damp locations?
Thanks for reading and I'd love to see you down in the comments! :)
Interested in this topic? You might enjoy another article I've written called

Rosie is a passionate

wildlife gardener

,
perthshire photographer
and writer.
She enjoys soaking up nature in her own garden and is easily distracted from doing the weeding by anything that buzzes, creeps, crawls or flutters. Connect with her on
Google Plus
and
Facebook
.
© 2009- 2013 Leavesnbloom
~ All Rights Reserved.
Enjoyed this post?
Get more just like it by subscribing
by email

.
Like this post? Be awesome and share it!
It only takes a moment to click a handy button below and share with others.