Weekends are usually spent working in the garden but not today. To celebrate Perth's status as a city again and the Queens Diamond Jubilee we headed down to the North Inch to join in with the celebrations. The pipers piped, kilts swayed in an array of tartan plaids and flags waved as the 1000 Pipers Parade marched through the city. Many came from as far afield such as Malta, Poland, Germany and Switzerland to play in the Pipefest. Then as part of the Eden Project Initiative we sat down for the big Jubilee Lunch/Picnic on the Inch with hundreds of others and enjoyed the entertainment..........and people watching!

Iconic Scottish Wildlife participated as well!


Kilts, Sporrans and Bagpipes and lots of tartan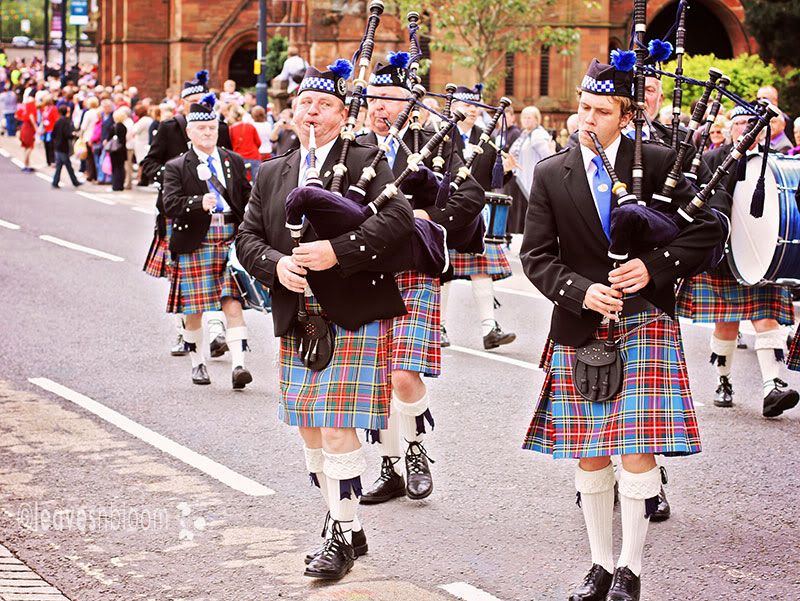 Pipers with lots of puff in their cheeks
The Big Jubilee Lunch on the Inch




















People Watching!
One of the participants of the Perth Kilt Run before the Guinness Book Of Records Race
The weather was just perfect!

I'm convinced those weeds took advantage of my absence from the garden today and had a little self seeding party of their own.
Related Posts:

"Ever since the creation of the world his eternal power and divine nature, invisible though they are, have been understood and seen through the things he has made. So they are without excuse." Romans 1:20
This is a copyright post written for www.leavesnbloom.com

© 2009- 2012 Leavesnbloom

~ All Rights Reserved.
Enjoy this post? Make sure you get the latest article delivered to you as soon as it's published by subscribing via RSS or Email. We respect your privacy and will never spam you. You can also connect with us on Google + , Facebook and Twitter..