Today I'm probably sharing one of the most innovative ways of deterring online image theft that keeps our online photographs linked to our identity and our ownership! What if that watermarked photograph on your blog was pinned and repined, stripped of all it's meta data and shared on twitter and facebook. Then downloaded by someone, your watermark cropped away and uploaded back on to the web again for the whole sharing process to start all over again.
Do you ever think after a myriad of reshares that that very same photo could some how still be linked back to you and your story?
Well it can be..........and it's free! don't believe me...............well read on and you'll soon discover how!
Apu Gupta founder of the social curation company Curalate said recently that. "Images are the new currency of social engagement"
So if images are the new currency how exactly are we going to be able to keep a track of them?
Even though there are some companies who will digitally fingerprint our images for a yearly subscription fee this way is much different as it's done visually, it's free (though eventually a few of the features will only be available to various paid accounts) and it's called
Stipple

.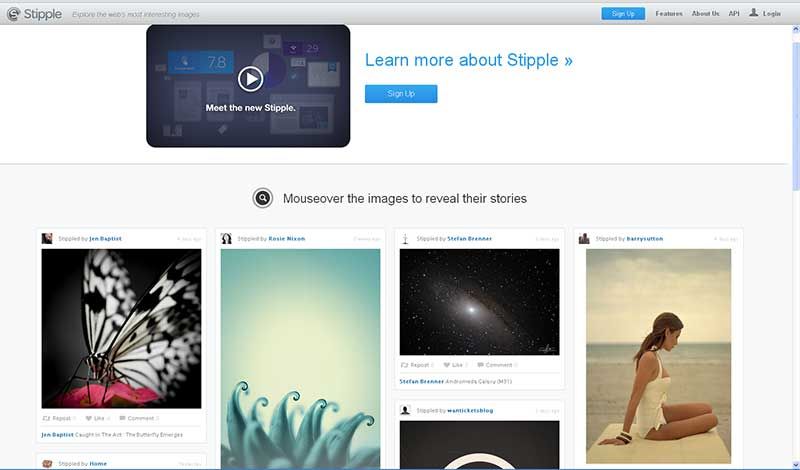 revealing stories behind the images!
Stipple is a very new company that is revolutionizing the way we share our images online. The company aims to let us control the information that is attached to our photographs as they get shared and reshared across the web. All you need to do is move your mouse over the stippled images and they show more of the story.
Tell the rest of the story inside each of your images!
It's a network that allows us to label, tag and even monetise our photographs in a way that stays with the image no matter how many times it is shared online. Those tags can be maps, videos, product descriptions, contact details, blog bio's, and links back to your blog and/or social network sites. It makes your photographs become rich media content........in other words interactive! Watch the video and see for yourself!
viewing a youtube video drops a cookie on your computer
How to Stipple Your Images
So far you can upload any of your images from Facebook, Google plus, Instagram, flickr, a url or an upload from your computer. I've only uploaded from flickr and Google plus (as it's linked with my picasaweb albums). Once you upload your image to stipple and tag it with as many tags as you want stipple will add a fingerprint to it. From that fingerprint stipple looks for copies of your image across the web and attributes the tags you've placed on the original photograph on those copied images.
Click on the upload arrow at the top of the screen to show your upload options.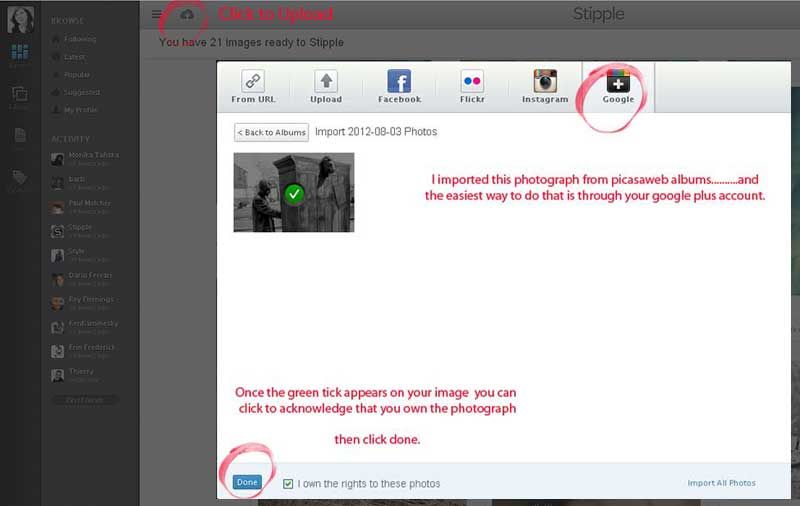 uploading your images
Connect Stipple to Your Network

- needs done only once for each account e.g flickr, google +
Once you have decided where to import your photographs from Stipple will connect your account to that network.
Etsy owners should click on products on the left hand sidebar to link their shop photographs with Stipple.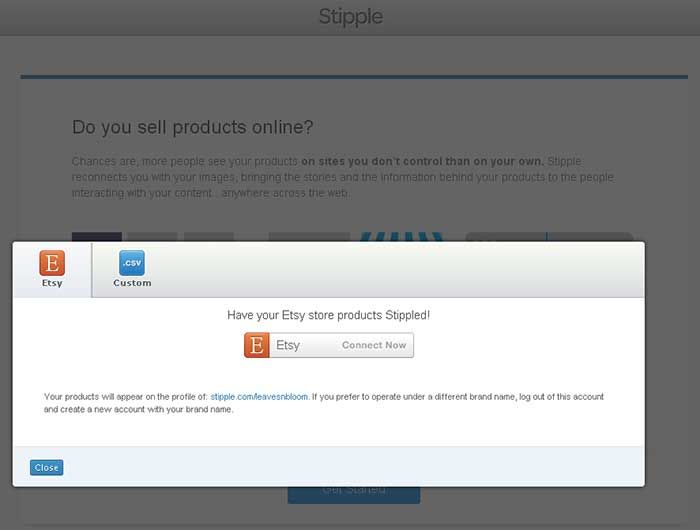 It's up to you how many you upload at once.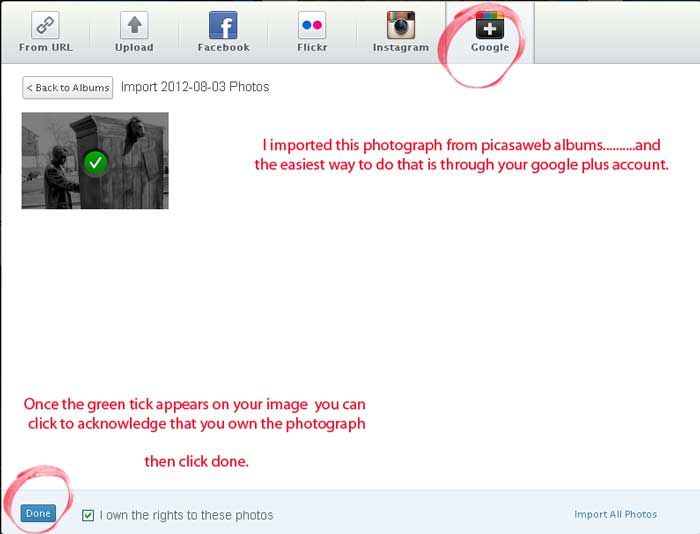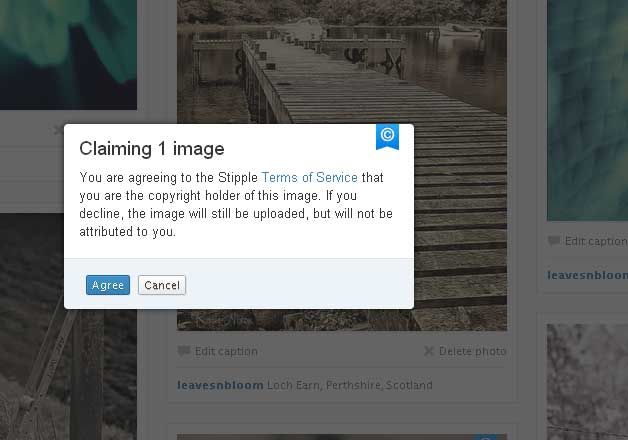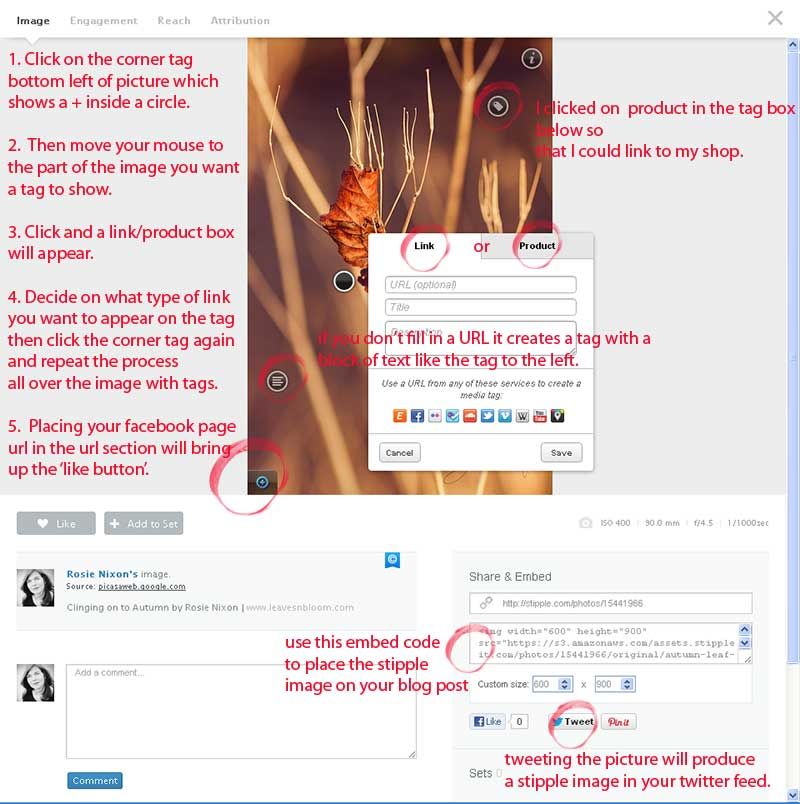 adding stipple tags
How to Show Stippled Images On Your Blog/Website
In the screen shot above you'll see the embed code that you use to place the photograph in your blog post. You can change the size to what ever fits in with your blog width.
How to Let Your Blog Visitors See Your Stippled Images
There are two ways to allow people to see your stippled images.
#1 You can encourage your viewers to download the stipple browser extension for either firefox,

chrome

or safari by having a message in your sidebar, footer or beside your stippled photograph on your blog post. If the viewer doesn't have the extension they won't realise that your images are stippled and won't be able to see the tags........though if you share your stippled images to twitter then they will see the tags.

(I use the chrome extension).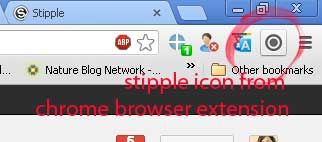 icon from chrome browser extension
#2 You can add a piece of javascript that Stipple give you for your blog/website html template which means that anyone will be able to view the tags when they scroll over the image. Stipple say that it won't slow your blog speed but a few months ago I did some tests with

google page speed insights

and stipple did slow my page speed down by quite a few seconds. I took the script off my html template and see #3 for what I do now.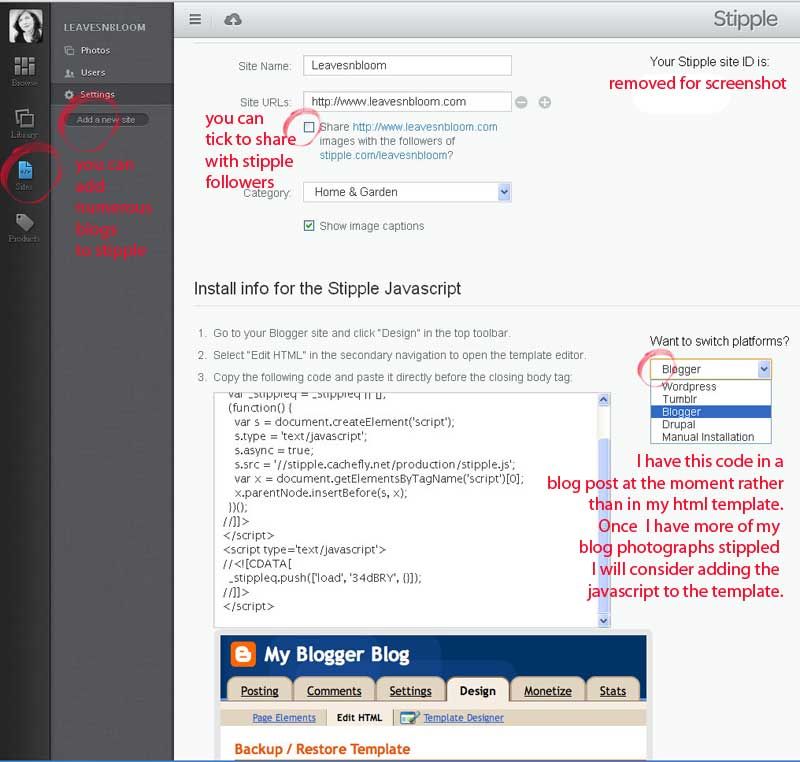 html coding
This also enables your blog images to get imported into stipple for you to add tags to. You can then decide whether you want share those images with the stipple network of followers or not.
#3
You can add that same piece of javascript to a blog post rather than going into your html template.
Even without this piece of javascript I checked on one computer that doesn't even have the stipple extension and a few of my stippled photographs were showing the tags though not all until I added the piece of code.
An Example of A Stippled Image
Just look how interactive I've made this image! scroll over it with your mouse to discover all the hidden rich media content including another photograph and a map. As more sites start to show the stipple tags it will be so much easier keeping online images attached to the copyright owner and helping to deter online image theft.
stippled image - deterring online image theft
The Possibilities Are Endless!
Etsy shop or other business owners can tag all of their web photographs so that if any of them are shared then their business details like contact details or shop url will always be attached to the photographs.
Garden bloggers maybe have taken a picture from a garden visit and can add a video that they took of the same garden as a tag. They can add details of where to buy the plants, add more photos and even a link to the blog post it's featured in so that if the image is shared the viewer can still go back to the source material.
Wedding photographers can add lots more photos, video, venue website or who the florist was to tell even more of the story of the days events.
If a nature photographer takes a picture of a bird - they could add audio of the bird song, a map of where the photograph was taken etc...........the possibilities are endless!
You can even add affiliate links to your tags.
How to Deter the Croppers
My suggestion is to place some tags in the centre or at the focus point of interest in your image. This is just in case someone copies your image and then crops your watermark and also crops away some of the tags that are on the edges of the photograph.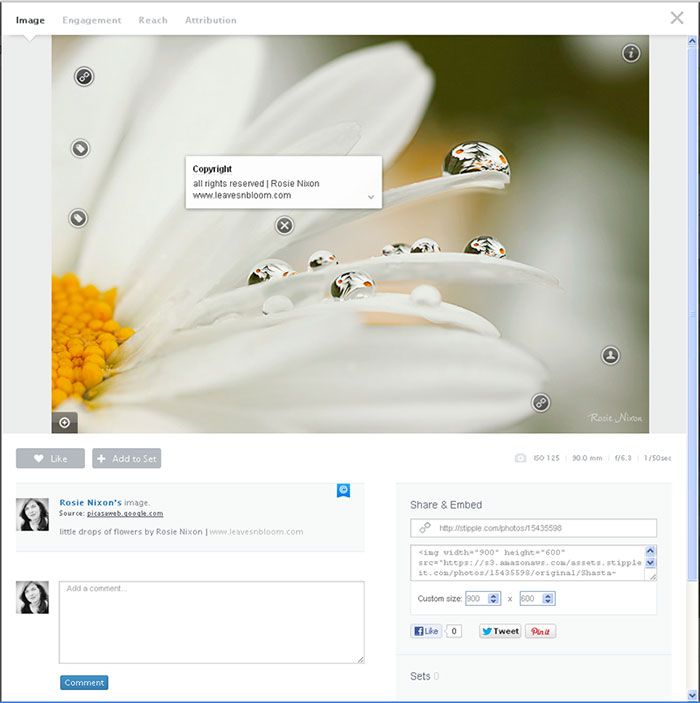 keep some tags in the centre to deter croppers
Once that cropped image is uploaded to the internet again Stipple may not recognise it as your image but will still check it against 'related' photographs with similar histograms that have been fingerprinted and still attempt to attribute the photograph to you the owner. If there's a tag right in the middle of your photograph or where the main focus of interest is then you'll have at least 1 tag linking back to you no matter how cropped your image becomes.
Statistics
In your stipple account you can keep track of your photographs statistics as it gives you information on how your photograph has been interacted with. How many dots have been clicked on, how many people have shared your image and it even gives you the hyperlinked url of the sites that are using your image.
How much data a free account in the future will show is something I can't give you an answer to.
I stippled this image on 30th December and from the analytics that stipple supplies you can tell how much interaction your photo has had.
Image | Engagement | Reach | Attribution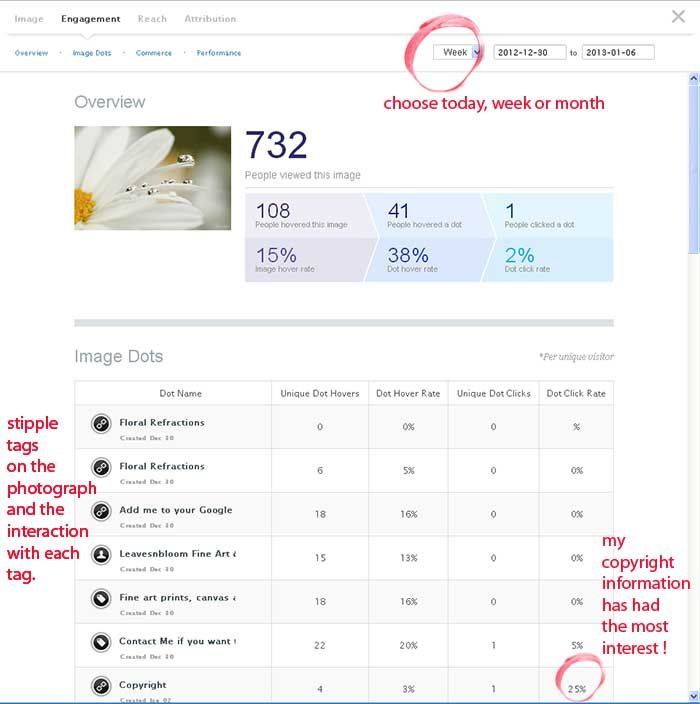 engagement
My copyright tag is hyperlinked so that if it is clicked it will take the viewer to my website

copyright page

.
There are more graphs under
commerce
which are broken down into
Overview | Ranking/method |
Performance by site.
An interesting one is Performance by site as it gives you a hyperlink of all the sites that are using your attributed image.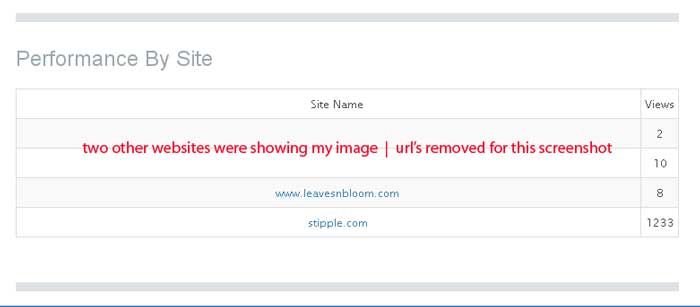 The most important one is Attribution and if this isn't filled in it really isn't worthwhile stippling your images as attribution is the key with Stipple.
you can add to this section yourself or if you use photoshop or lightroom your metadata captions will be transferred automatically by stipple when your photo is uploaded.
Sign Up Today
Stipple is now in public beta and
you can sign up here
. The team at stipple are so helpful in answering your queries though please remember that the site is still in beta so some features are still basic and some of the e commerce facilities are still not available.
Twitter have just recently started to show stippled image tags and there are other networks in negotiations. Hopefully Pinterest one day will show the tags as so many of the photographs on that network do not link back to the original owner.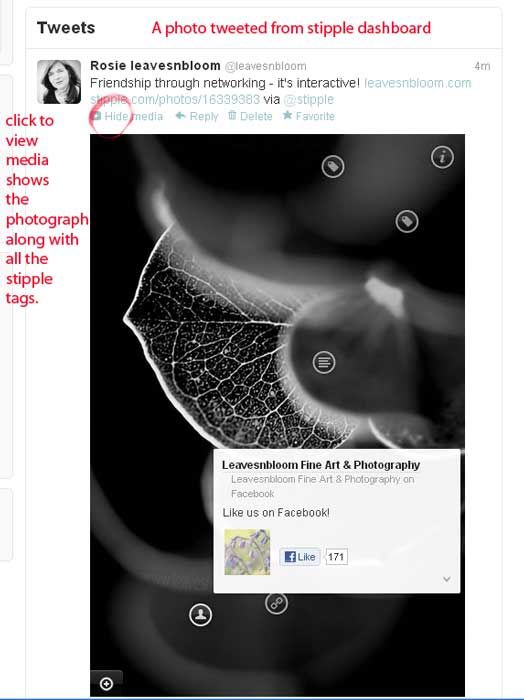 hovering over the image will show the stipple tags in twitter
Thanks to companies like Stipple the day is hopefully coming soon when we'll not need to worry about online image theft! It will never stop your images being shared elsewhere online but at least all your attribution and copyright will stay with the photograph no matter where it ends up.
Sounds good?............well let's see it in action!
You may not have realised it but there was more to my

Best Nature Photos 2012

than meets the eye and my photographs were stippled with lots of different types of tags attributing my ownership.
It was through

+Colby Brown

that I first found out about stipple and I've been a beta member since the days that sign up was by invite only.
Colby has since written an excellent article on stipple which I can thoroughly recommend as it goes into so much detail about the network and the analytic data records -

Social Media For Photographers: Stipple

It's primarily written for photographers but I can see the benefits for anyone who shares their own photographs on the internet.
Thanks for stopping by today.
Edit to add a big thank you to Rey Flemings the Founder and CEO of Stipple for retweeting my blog post tweet on Stipple and also sending me this very encouraging tweet.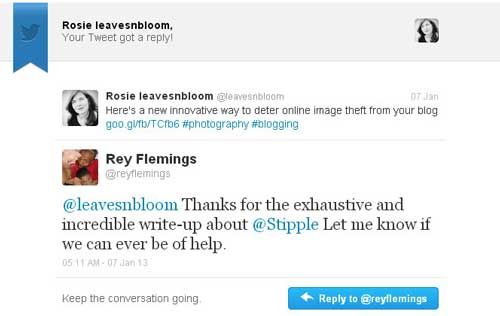 From the Stipple CEO
Part Two of this post has just been published and you can read it here:

What's Interactive Image Discovery?
Interested in this topic?

You might enjoy some other articles I've written:
Rosie is a passionate
wildlife gardener
,
perthshire photographer
and writer. She enjoys soaking up nature in her own garden and is easily distracted from doing the weeding by anything that buzzes, creeps, crawls or flutters. Connect with her on
Google Plus
and
Facebook
.
© 2009- 2013 Leavesnbloom
~ All Rights Reserved.
Feel free to share it with others using the handy buttons below.