It's another Scottish Garden Bloggers Bloom Day in July. The beginning of the month saw the plants being pelted by rain coming down at a rate of between 4-6 inches per hour. Along with thunder and lightning on numerous days. However yesterday and the day before were just perfect summer days. The sun shone and it was so warm and the hence the flowers were flourishing as you'll soon see.
Scottish Garden Flowers in July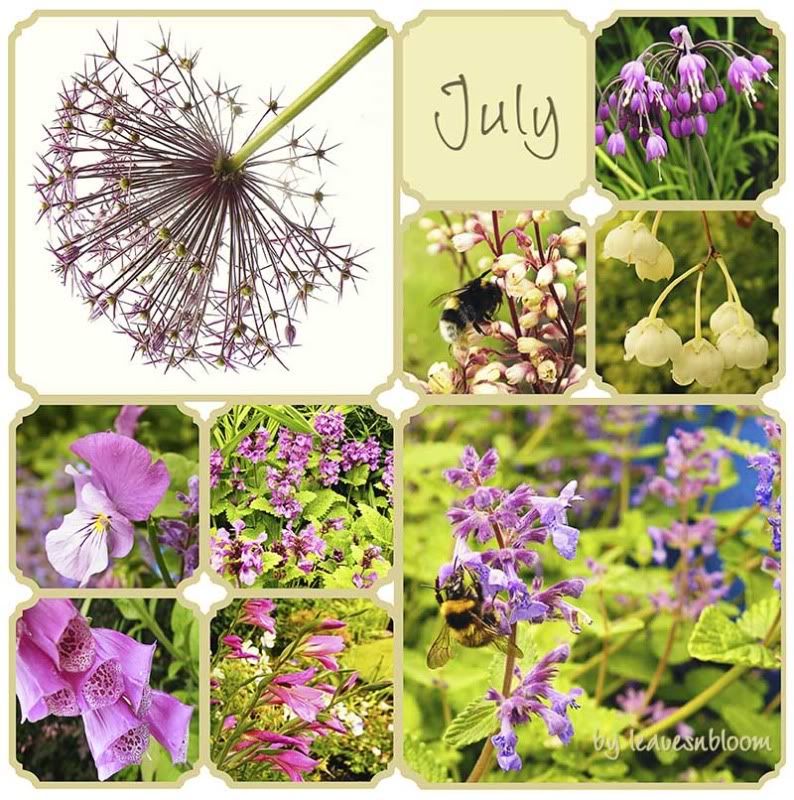 Scottish garden July flowers
The Allium christophii  (Star of Persia) reaches up into the sky at this time of year. These alliums used to be in bigger numbers in the garden but now I only have a few clumps with about 4 plants in each  I think over the years many have succumbed to my heavy wet clay. I also grow Allium cernuum. It's a small clump of 3 plants at present that grow in a south westerly position in the back garden. However I have many self sown seedlings growing around the main plants. Hopefully these will be at the flowering stage in another 2 – 3 years time.
Heuchera's have great flowers for the bees. Zenobia pulverulenta Blue Sky grows under the silver pear tree and has white aniseed scented bell shaped flowers.
Stachys macrantha Rosea grows in a large clump in both the front and back gardens. If it is really warm it will wilt in the back garden. However I shouldn't have planted in in a south westerly location!  My only regret is that it doesn't flower long enough for my liking.
Digitalis self seeds in a hap-hazard fashion all over the east facing border in the back garden.  I'm a very relaxed type of gardener  and I just let nature decide where to plant it. It can be a difficult border to grow things in due to the winter wet.
I'm really surprised that Gladiolus Byzantinus  are in flower. The bulbs were newly planted last autumn and I was sure they would be a winter casualty after the harsh winter temperatures. Their hardiness has surprised me and they are flowering really well for their first year in the garden. They are right in  saying that  plants bulbs don't read textbooks! but I did plant the 15 bulbs under the silver pear tree. Consequently that has a southerly outlook so that might have helped in protecting them.
Nepeta x faassenii  is a plant that I let grow and seed where ever it pleases. It's beloved by the wildlife and the local cats.
Summer Flowers Collage 2

Cerinthe major purpurascens  is an annual here in the garden and it grows along side the pedestrian footpath. It's just one plant but it has about 8 arched stems with purplish bracts just now and I'm hoping to overwinter it in the house.
Anthemis tinctoria Sauce Hollandaise grows as well in the front garden in a south easterly position.  I purchased 3 plants a few years ago that now have grown into a very substantial grouping of more than a metre square when in full flower.
Rosa 'Rhapsody in Blue' is one rose I forgot to prune this year and is one that I think I am going to have to move this autumn into the front garden.  It has never thrived ever since the other shrubs nearby started to block more and more of the south westerly sunlight. While there's also Alchelmilla mollis. Well it's more like a weed here as it will grow even among the gravel. But I remove as many of the seedlings as I can and dead head before the flowers go to seed. I grow it primarily for the wildlife in the garden to enjoy. But this year it has seeded in into the lawn so maybe my love affair with this plant is finally about to end. 
Then there's the yellow flowering Ligularia stenocephala The Rocket. I thrives in my problem corner which is wet all year round.
However the Flowering carpet yellow rose managed to pull through another winter.
Summer Flowers Collage 3

Clematis Crystal Fountain didn't flower at all last year and maybe if it wasn't in a northerly position it might do better. But it does have to compete with a vigorous golden bamboo nearby. 
Tanacetum parthenium better known as Feverfew grows in different parts of the back garden but thrives in the southwesterly position. I let this self seed every year but most of the plants will grow for about 2 years before they flower themselves out.
Eryngium bougatti Picos Blue is slowly making its presence known in the garden. I wish I had purchased more than one of these a few years ago. In bigger numbers they would give a lot more impact to the border. This one is planted in a southwesterly position and beloved by the wildlife. I think root cuttings would be the best way for me to increase the stock.
Summer Flowers Collage 4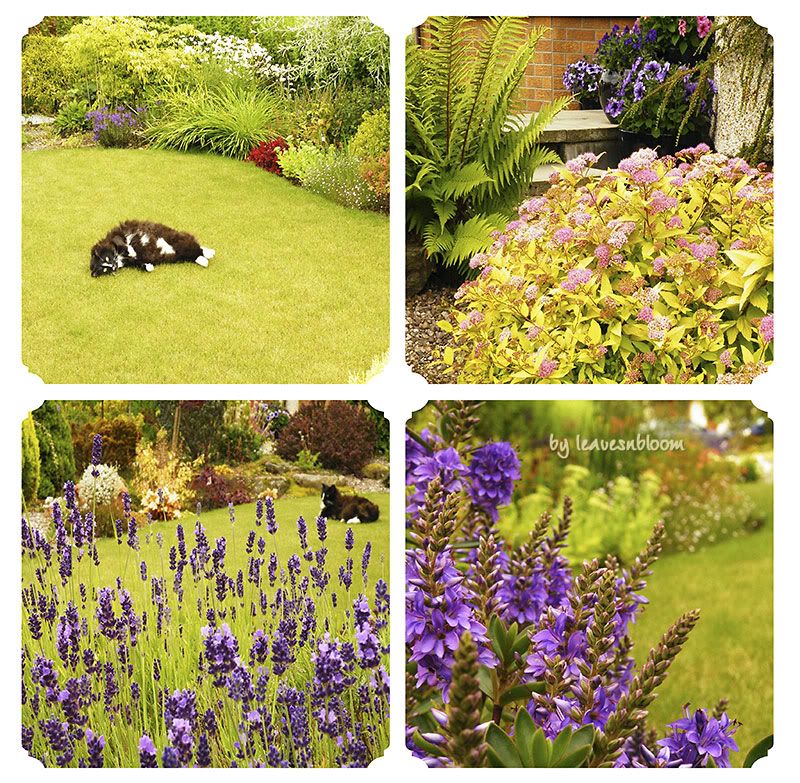 The
Lavender Hidcote grows in poor soil next to the pedestrian footpath. It thrives in it's south easterly location and the clump is at least 1m x 1m wide.
Geranium Rozanne grows in a south east position in the same border as the Silver Pear tree.
Tradescantia x andersoniana Osprey is not an invasive plant here. It's not very vigorous either and only has one short flowering season. It faces south east as well and seems to hate our wet summers. But I just love its candyfloss looking flowering centres.
There's also the pink Spirea Golden Princess  and the purple Hebe Pixie.
Summer Flowers Collage 5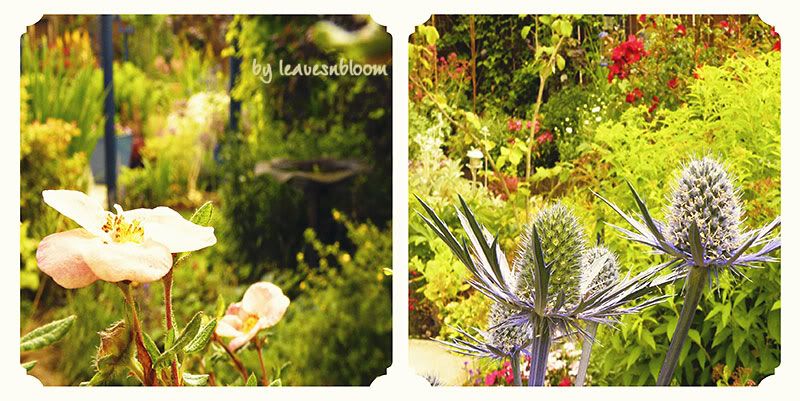 Potentilla fruticosa Pink Beauty and Eryngium bougatti Picos Blue. Along with a Flowering Carpet Red rose standard, Shasta daisies, red Centranthrus and Dianthus.
This is just a small selection of what's in flower in July!