Here are my 10 tips on planted containers. Planted containers and hanging baskets full of bedding plants are a typical sight outside any front door or patio especially during the summer months. But how good looking are yours? Maybe you are just thinking about having a new container on the patio and you really want it to look its best this summer. Or maybe you've just been out for a walk in the neighbourhood and noticed that others are looking much better than yours.  Well  here are the 10 tips that I have used with great success throughout the years.
How to Have the Best Looking Planted Containers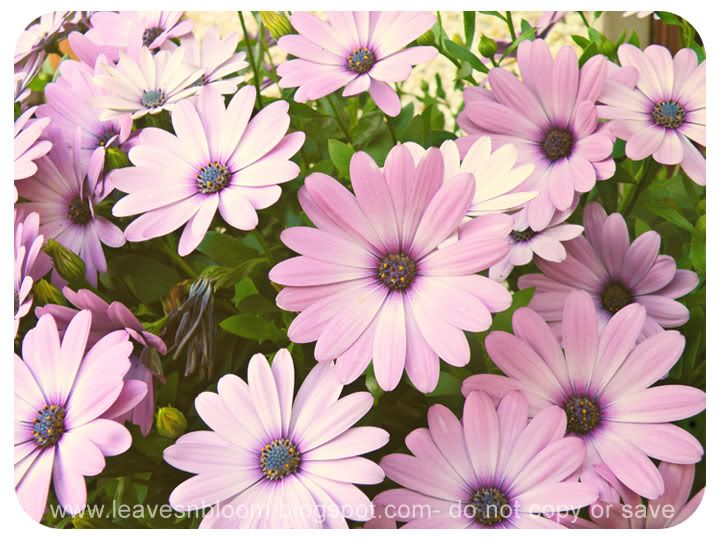 Tips on planted containers – Oesteospermums are one plant I can't do without in my planted containers!
10 Tips on Planted Containers
1. Make sure you have a good quality compost that has some added John Innes mixed in so that doesn't dry out too much in the summer. Multi purpose compost is very hard to "re wet" again. Just make sure that your mixture isn't too heavy if you're planting a hanging basket.
2.  Add water retaining gel  to the compost and mix well before planting.  Furthermore You can add a slow release fertilizer as there is normally only enough feed in the compost to sustain the plants for the first 6 weeks. However I prefer to feed while watering.
3.  This sounds very obvious but it is so important to choose suitable plants for your location. Pick plants that like the shade if your container is going to be mostly in a shady location and vice versa for a sunny aspect.
4. If you are  growing young bedding plants make sure you pinch out the growing tips. This makes bushier plants with more potential flowering stems. Pinching out the tips will normally slow down flowering by about 6 weeks on that stem. So you are best to do that early in the season.
5.  Feed until the end of June with a high nitrogen feed (miracle gro or similar product). Moreover you want to encourage as much green growth as possible.  Feeding with a high nitrogen feed from the end of June onwards encourages lush green soft shoots which aphids just adore.  My only exception to this rule is when I am transplanting. I will always feed with a high nitrogen feed  at the first watering to prevent transplant shock.
 
6. You've got lots of green growth thanks to the nitrogen feed. So now you want the bedding plants to concentrate on producing blooms. Cease the high nitrogen feed from the beginning of July and feed thereafter with a high potash feed – like tomato feed or potash. Exhibition growers will feed with a quarter the recommended potash strength  at every single watering. I add a little potash to my watering can  every  time I water my containers at home as well.
7. Check watering daily and aim to keep the compost moist but not soggy.
8.  Try not to water over the blooms or over the leaves as you will encourage mildew to form.
9. Dead head regularly to encourage more flowers.
10.  Finally check for aphids. If you are not organic and use a chemical spray to control them make sure you use 2 different products. The aphid generations develop resistance to each active ingredient over the season. Hence it's wise to spray with alternate products.
I hope these tips will help you achieve great looking bedding containers and hanging baskets this season. All you need now is a little bit of sunshine.