Here's a tutorial on how to embed copyright and metadata (Exif) on your photos using photoshop. This technique will keep your contact and copyright information attached to your photograph while it's published on the internet.
What copyright information do you tag your photos with?
Have you entered your copyright notice in your camera?
When you click on the link below the photo you'll be redirected to flickr. If you click on the Show EXIF link you'll see the copyright and metadata that I added to the photograph.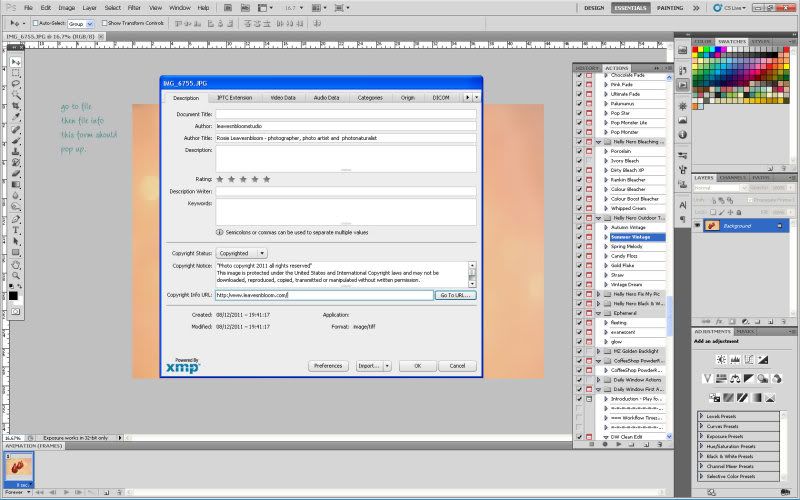 How to Embed copyright and metadata
I entered my copyright notice into its own menu section in my camera. So every photo has a copyright notice. But I went further.
Go into photoshop CS5/Elements. There is something very similar in Lightroom though it's even better as you can do it in bulk.
Once you have a photo opened you go to:
file
file info
and fill in the first form
and press OK
Save For Web
Then save your image for the web (file, save for web and devices). Make sure that you either select all meta data or just the copyright and contact details to be embedded with the image.
Once you upload your image to flickr tags and descriptions are automatically transferred as flickr can read the metadata.
Using Google Alerts
Make a unique copyright notice.
Embed it into your photos.
Then make a google alert for that notice.
Google will send an email every time that copyright notice is found.
You can then go and investigate!