I'm celebrating Scotland's natural beauty today with its beautiful array of Perthshire wildflowers. For the earlier part of August the surrounding countryside has been painted with a lush display of  
Scottish wildflowers
.  As a consequence the hum of bees has never been far away.  Now as August ebbs away thistle down and the cottony seed heads from Rosebay willow herb literally fill the air. Furthermore blackberries are ripening and turning from claret to juicy black. While there are reddish hues appearing on the hawthorn berries and rosehips.  Here's a selection of  some of our August wildflowers taken from my favourite wild and unspoilt places. Places where I feel so close to God.
Perthshire Wildflowers in August
Rosebay Willowherb
Chamerion angustifolium
It wouldn't be a scene from Scotland without the vertical spires of purple pink Rosebay willowherb. Moreover it dominates the landscape with its drifts that stretch for metres. In addition there are the drifts of the thistle-like-flowers from the Common Knapweed and the Creeping thistles.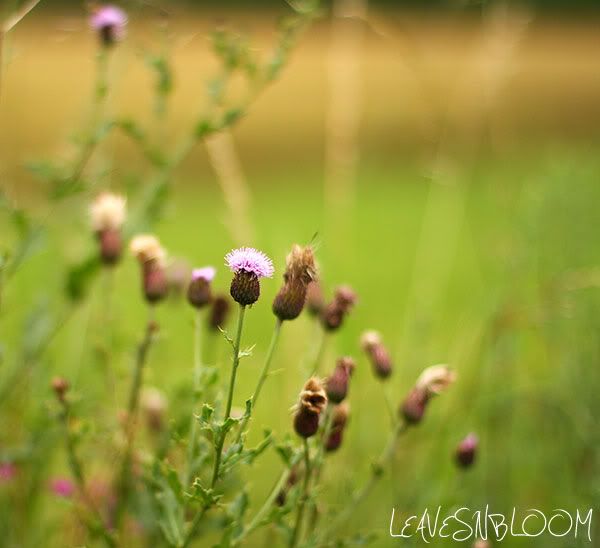 Creeping thistle – Cirsium vulgare Perthshire wildflowers

Forget me nots – Myosotis laxa, Redshank – Persicaria maculosa and Scentless Mayweed daisy – Tripleurospermum inodorum
Forget-me-nots, Redshank and drifts of Scentless Mayweed daisy flowers weave their way along the edges the fields.
Colourful wild lupins (Lupinus perennis) paint a rainbow of colour along the hedgerows. They contrast so well against the golden fields of ripening barley.
Along with little splashes of orange from the delicate looking field poppies.
While in my own garden this year I introduced a few rich nectar biennial Teasel plants. It's another of my UK garden worthy natives. Hopefully as their offspring colonize over the years.They'll look very architectural with their sharp spines and prickly leaves. As a result they'll contrast with the cone shaped flowers from the Hydrangea paniculata Limelight at the back of the border.