Here are some Japanese style garden ideas that you can have in your own garden.
Do you want to know what my one big regret is with my back garden? Autumn flowers excite me but over the years its not half as much as foliage plants.  Twenty years ago Japanese gardens were quite popular here in the UK and  regularly featured in the Chelsea show gardens. But by the time I started to design ours over 15 years ago that trend was waning in popularity. As a result I also wanted to do something different. As I look back many a time I ask myself why I didn't  just plant it with a Japanese style  from the very beginning. It had been one of the original designs I had to choose from.
Japanese style garden ideas – September 2011 – autum foliage
The closest thing I have to any type of Japanese style is along the little strip of garden that separates our property from the neighbours.   It's nothing like the famous Portland Japanese Garden. Such beauty in that place…sigh.
The Rock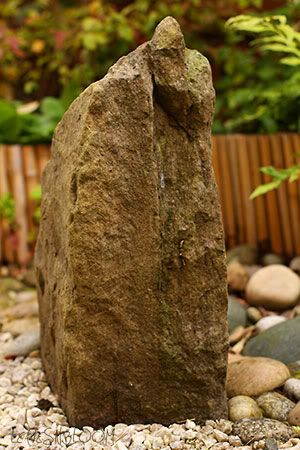 August 2011
We all find our inspiration in many different ways. For this part of the garden it was finding an enormous rock embedded in the lawn in 2007.  We kept wondering why one part of the grass always seemed to die off so we decided to dig that part up. I was convinced it was just a small piece of rock.  Well we dug and dug…and dug. It took one whole day to dig it out. Finally!
My youngest was convinced we had a gravestone in the lawn!
It then took two of us to roll it from the lawn to the side garden. We had to be careful not to break the patio pavers every time we rolled it over.  What were we going to do with this enormous piece of rock – sell it on ebay?<giggle> Can you imagine the postage?   And so began our little Japanese theme. Well that is after we extended the other flowerbed as we had wrecked that part of the lawn.
Spring 2008
The Pieris died during 2010 winter and the Fatsia struggles now with our winters. It has never been this size since 2008.
I already had the wind chimes so all we needed were a  few rolls of bamboo edging, cobbles, river pebbles and white gravel. Though they are not so white now! Ideally it should have been sand so that I could rake some shapes into it. But the neighbourhood cats would have used it as an outdoor litter tray. No thank you!
I bought a couple of packets of bamboo canes from the garden centre and made two pieces of bamboo trellis.  I laid out the design on the floor and cut the pieces and then wired them together with florists wire.  Then I covered the wire with raffia knotted in  a Japanese style. Though damp twine would have been better.  (How to tie Japanese knots, make bamboo fences and trellis).
Japanese style garden ideas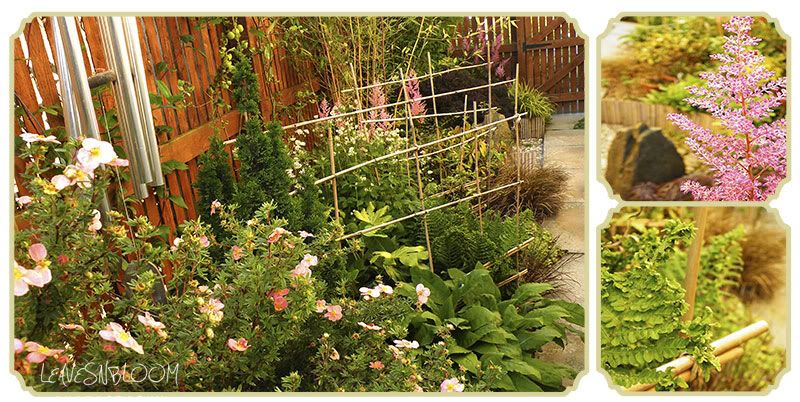 I planted it with
Acer palmatum var. dissectum 'Garnet'
Hakonechloa macra 'Aureola' – Japanese Forest Grass
a small standard cherry tree (lost label)
Cyrtomium falcatum – Japanese holly fern
 Phyllostachys aurea – Golden bamboo
Fatsia japonica ( it never gets big due to our recent harsh winters)
Athyrium niponicum var Pictum – Japanese painted lady fern
I also used to have a beautiful 3 foot tall Nandina domestica 'Firepower' until it succumbed to our first harsh winter a few years ago.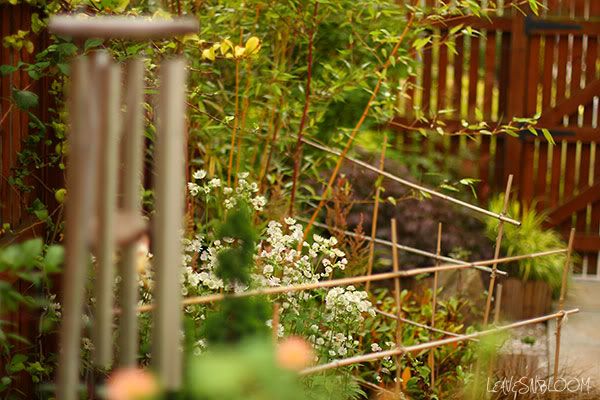 August 2011 – the Astrantia selfseeded from the garden next door
Some other plants grow in the same strip though  they're not strictly Japanese style plants. But I grow them for colour and texture like ferns,  Astilbe,  Astrantia, Chaenomeles japonica (as a climber), Dicentra, Pulmonaria, Philadelpus corona aurea and Potentilla fruticosa 'Pink Beauty'.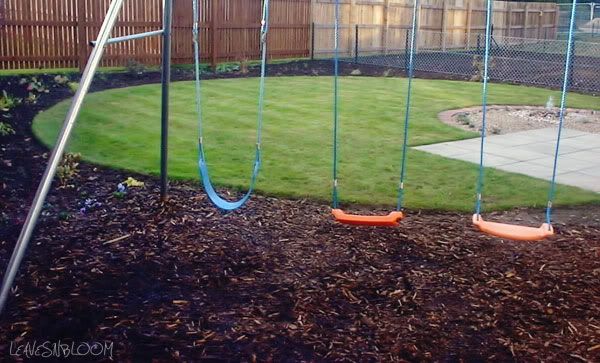 My blank canvas Autumn 2001
I would love a blank canvas again to do something on a much larger scale in the back garden. But that's never going to happen. It would be too painful to get it back to that blank canvas on my heartstrings never mind the bank account!
So I'll just have to be content and enjoy the little bit that I have especially at this time of year. I can just imagine what it would be like on a grand scale. At least that's free and effortless.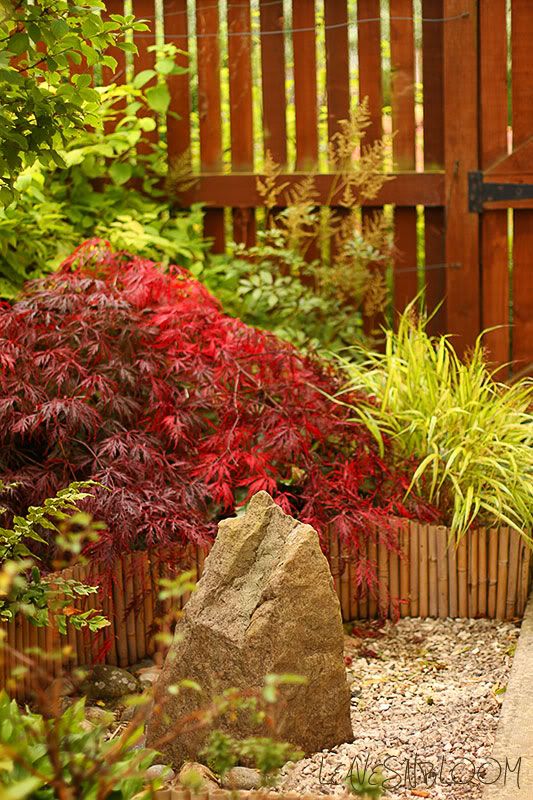 Japanese style garden ideas – large rocks and gravel
Do you ever wish you could start your garden from scratch again?  What changes would you make big or small?