Here's my tutorial on how to make colour palette photographs.


Colors, like features, follow the changes of the emotions. ~ Picasso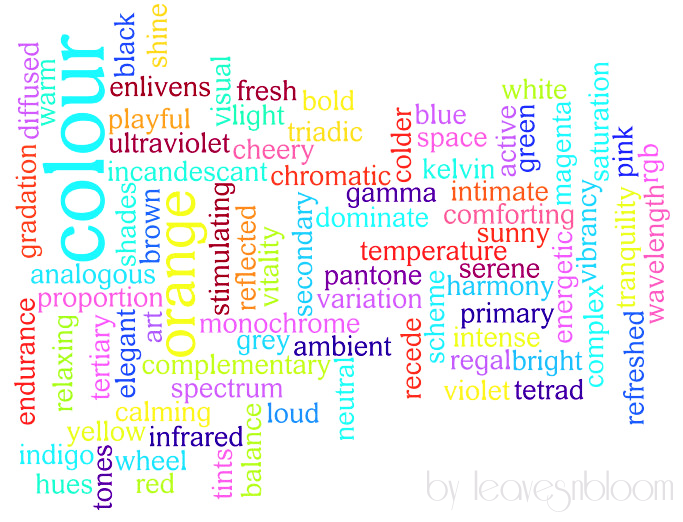 What am I going to wear today?
It's a colour decision we make every single day isn't it when we open the wardrobe. Indeed sometimes it's easier than other times to make that choice. Colours can be cool or warm, muted or bright and all the shades in between. They subconsciously affect our moods. Even the catwalk trends normally cross over and influence our interior decor. As well as our exteriors ranging from patio furniture and soft furnishings to colourful pots and candles.
If you're a gardener like myself you'll probably be planning your container and hanging basket colour scheme already for the new season as you drool over the 2017 seed catalogues. While if you're a designer/photo artist it will be Pantone's color trends for 2017.
Extracting Colour Combinations
Many years ago while doing web design work I discovered
Adobe's Kuler
. That's when I first started to use my photographs digitally to extract colour combinations. Just take one of your photos into Kuler from either your computer or flickr photostream and Kuler will extract colours from that photograph and arrange them in a palette.
You'll probably be surprised at what colours there actually are in that photograph. This in turn is great for a little creativity. It's useful to help you choose your blog colours if you've a particular header image. Or for interior designing with a favourite photographic print/canvas. You can import your colour swatches into photoshop as ase files or take a written note of their hex values.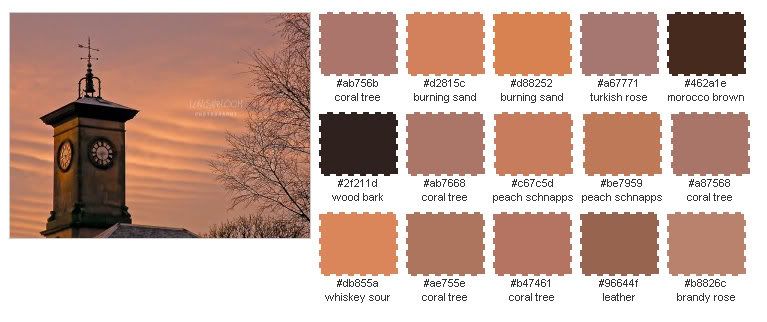 What if I don't have Photoshop?
I know that many will think that they won't be able to make these as they don't have photoshop. But there is a solution. If you know how to take a screen shot from your keyboard. Then you'll be able to make a palette using the
Color Palette Generator at Big Huge Labs
. (free). If you search on google you'll find plenty of other palette generators to choose from as well. You can also download Gimp or Paint.NET (both free).
Now let's get those creative juices flowing! 
Those of you that are adventurous don't have to use square or rectangle palettes. Sometimes I just use the colours. While other times I place text in the colour blocks as well as textures. Furthermore all summer I've added hex numbers and lately it's been watercolour splashes and brushstrokes.
I've seen others use these colour palette photographs across the Internet and there are templates for sale that use clipping masks. But if you can use photoshop cs, elements or other photo editing software you'll be able to make colour palette photographs for free.
How to Make Colour Palette Photographs
Firstly I've never used Photoshop Elements. So my instructions are for anyone who uses Photoshop CS5 but hopefully the principles behind each step are the same.
My creativity is endless with these and I'm sure yours will be too.
I'm a bit of a Rebel Designer
#1. Edit the photograph you are going to use as normal.  If you want your colour board printed make sure you save your photo as a 240 or 300 resolution. I used this photograph from the summertime as l love the clash of orange and pink. The late Christopher Lloyd from Great Dixter has had an influence on how I see colour!
Choose Your Brushes
#2. Have you got some watercolour brushes in your brush collection?  I downloaded one set from here. But deviantART would be a great place to start looking as well. Though just make sure that if you sell your work that the brushes are allowed to be used commercially.
 Web Size or Print?
#3. Start with a new document and decide on your proportions, resolution and background colour. Though keep in mind if it's just for your blog or for printing. In addition you can also add a texture to the background at this stage.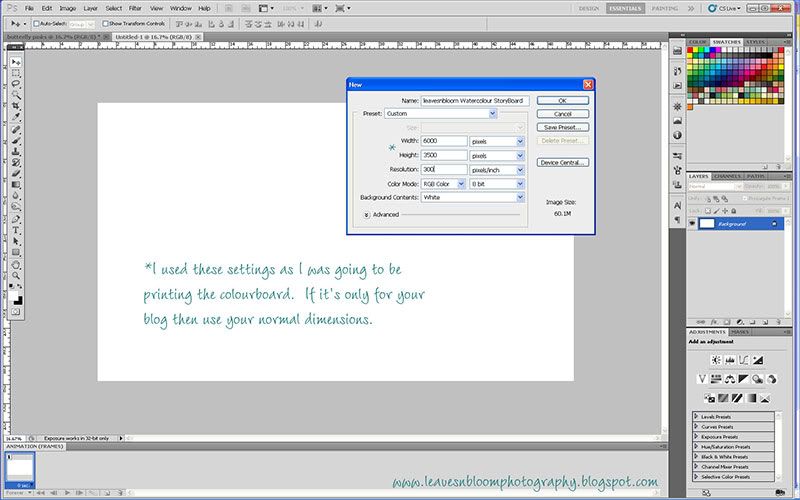 Using the Transform Tool
#4. Just like a texture bring your photograph over to your new document and place. If it needs adjusting to size click on the control and t key. Then hold down the shift key to re size in proportion and then place.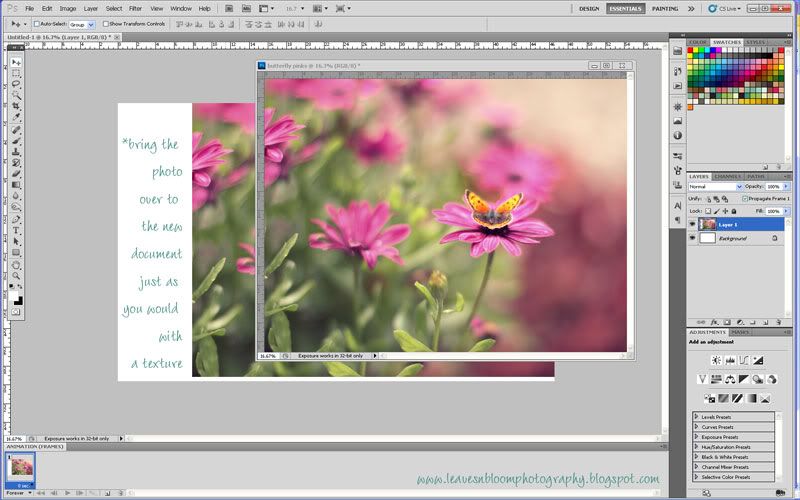 Choosing Your Colours
#5. Now for the fun bit!  Firstly on your first layer which is the photo you've just brought over you can add a drop shadow.  In this screen shot I did have one but later in my workflow I deleted it.
Then I made a new layer for my first brush. I picked the colour I wanted the splash to be from the photo. You can use the eyedropper tool for that. Then I picked the watercolour brush and took a mental note of the size as I want all the brushes the same size.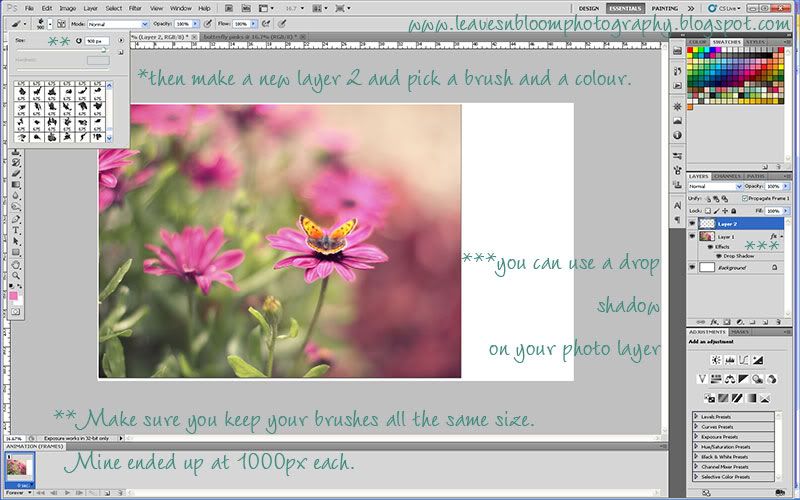 Using the Brushes
#6.  When a brush/watercolour splash has it's own layer it's easy to adjust the size so I had 3 different layers of brushes.  Sometimes I use a ruler (that turquoise line on screen  - go to view then click on rulers) to make sure that mine are all placed correctly. It's up to you how many watercolour splashes you want on the document. Again I would always say go for an uneven number (that's the garden designer bit of me creeping in again).  When you use the transform tool (control and t keys) to make the box around the splashbrush use the arrow keys to move it up, down, left and right.
Finishing Touches
#7. Now that you have all the brushes where you want them you can add a drop shadow to each brush. Then adjust the shadow to your liking. Less is more in my opinion when it comes to drop shadows.
#8. It's at this stage that you can add a border or flatten and crop the background.
#9. Then finally you can add text, add a watermark, sharpen if necessary and then save.
Here's the finished article. It's the first watercolour splash board that's for sale in the leavesnbloom fine art shop. In fact I think that it would make a lovely unique greetings card or postcard.