Perth lade wildflowers are still in bloom though few in number. For a change I stooped down and gathered a few of the yellow dandelions (Taraxacum officinale) to admire as a final farewell to the season.
Strolling further along the little meandering path I came across yellow Nipplewort (Lapsana communis)  growing in the hedgerow. Then I added some vertical interest from the masses of dry grass seed heads growing on the road side verge.
I looked down and realised that floral art was effortlessly appearing in my hand. It was so simple and so natural and beautiful.
Perth lade wildflowers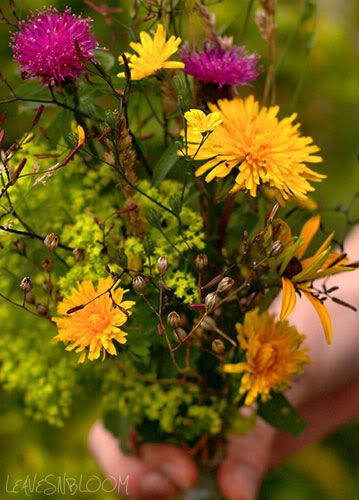 When you take a flower in your hand and really look at it, it's your world for the moment ~ Georgia O'Keefe
Lesser Knapweed (Centaurea nigra) with it's thistle like purple pink flowers was the perfect contrast of colour. Along with the dainty little yellow flowers and seed heads from the slender stems of the wall lettuce (Mycelis muralis).
If dandelions were rare and fragile, people would knock themselves out to pay $14.95 a plant, raise them by hand in greenhouses, and form dandelion societies and all that. But, they are everywhere and don't need us and kind of do what they please. So we call them weeds and murder them at every opportunity ~ Robert Fulgham.
The little posy was almost complete. Though I had to wait until I arrived at my garden gate to add the little touch of chartreuse foam from the sprigs  Lady's Mantle flowers (Alchemilla mollis). And finally a little yellow Coneflower daisy (Rudbeckia 'Goldstrum').
A flower is an educated weed. ~ Luther Burbank
Time was short and the light so poor. I took the little posy into the garden to photograph. I would cherish this memory over the dark days of winter.
The miracles of nature do not seem miracles because they are so common. If no one had ever seen a flower, even a dandelion would be the most startling event in the world. ~ Anonymous