For the past few nights a little fairy has accompanied Jack Frost into the winter garden. As a result they've sprinkled some seasonal sparkle and glitter all over the plants. However snowflakes must be on ration as they've only left us a little dusting each night. Here's a little photography collection from this morning that reveals some of their antics as the sun illuminated the trails they left behind.
Winter Garden Photography
I'll probably regret leaving this Spirea with seed heads in the Spring as those seeds are so easy to germinate.  Sadly the winter sun never makes it as far as this large clump of Aster seed heads. But who needs lens bokeh when I've got natural orbs of Honesty seed heads!
The Hydrangea 'Limelight' literally is in the limelight at this time of year in the garden. While the Corylus avellena Contorta twists and turns. And the shasta daisy seed heads look like tiny white baubles on skewer sticks.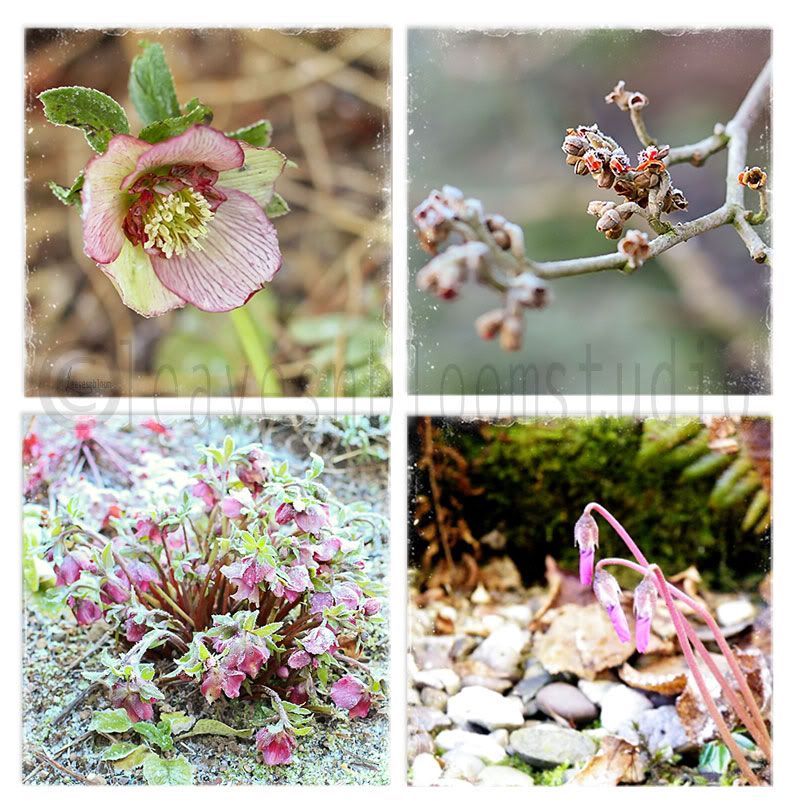 The Picotee hellebore from Het Wilgenbroek Nursery in Belgium top left has never flowered at this time of year before. While the Lenten Rose has been in flower for over a month now. The little Cyclamen coum buds are ready to open while the first ribbons from the witch hazel  Hamamelis x intermedia 'Jelena'  are teasing out.

The Pulmonaria saccharata 'Rosea' is in flower all over the garden. The Teasel seed heads are being left to self seed. While the Acer griseum is exfoliating.

While finally some of the leaves of the Berberis thunbergii f. atropurpurea 'Bagatelle' and Berberis thunbergii f. atropurpurea 'Helmond Pillar' are still hanging on. Likewise so are the last remaining petals of the Rudbeckia blooms.
Brrrh my toes were too cold to take any more photos today. So you'll have to imagine seeing the red crabapples, the last of the Cotoneaster horizontalis red berries and the purple Callicarpa bodinieri var. giraldii  'Profusion' berries.
What a difference compared to
last December
. Back then we were getting sick of the large heaps of snow the snow ploughs had left behind. There was hardly a bloom  or a berry in sight!