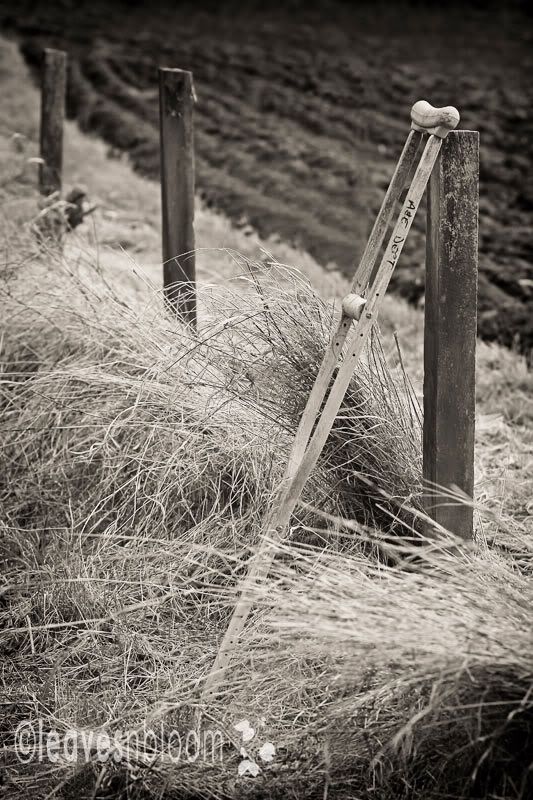 Living in the countryside means that fences appear quite a lot in my photography. Today I've deliberately used them to demonstrate the concept of leading lines. Every time you view a photograph your eye subconsciously is drawn along lines until it reaches the focal point of the photograph.  These lines are called leading lines and they are just one of the tools that define a good photographic composition.
Leading Lines
They can be fence posts, footpaths, roads, ploughed fields, shadows, stairs.  Furthermore they can be rays of sunshine curves, walls or even abstract lines like limbs if we're taking a portrait. They can be straight, curved or wavy.
It doesn't really matter so long as they don't lead the eye away from the focal point. The lines can define the relationship between the background and foreground. They give the viewer a sense of distance and perspective.
A Visual Journey
Pair your leading line with the rule of thirds and your image becomes a very strong composition!  
Take this photograph for example. Can you see how the multiple lines converge and lead you into the image. Do you see how the lines eventually lead your eye to rest on my focal point?
Let's do it in slow motion...
Your eye is drawn along diagonal shadow of the barbed wire. From the bottom left hand corner to where the shadow meets the metal eyelet in the post. Then your eye moves upwards following along the soft vertical grain lines of the fence post. Then to the barbed wire to the upper left of the photo.
While from the top left of the photograph a road and more barbed wire along with a distant fence post are drawing your eye down into the upper right hand corner of the image. And there sitting in grandeur is a little hill of moss flowering on the top of the fence.  That's my focal point!
I've only scratched the surface when it comes to leading lines with composition. You can see more examples of leading lines at the Learn Composition by Example Group on Flickr. 
So the next time you're out and about stop and have a look around before you compose your shot. Check to see if there are any lines you can use to your advantage. Then compose your shot to make it have much more impact.