If you're wondering what blooms in March in my garden read on …  Isn't it exciting to see the garden come to life again!  The drab beige blahs are slowly being replaced by the bright yellow daffodils. While primulas and primroses in all of their garish shades shout out for attention at our feet.  I think it's the time of year when many of us can easily get away with spring colour clashes. Indeed we're just so glad to see colour in the garden …no matter what!
So what blooms in March?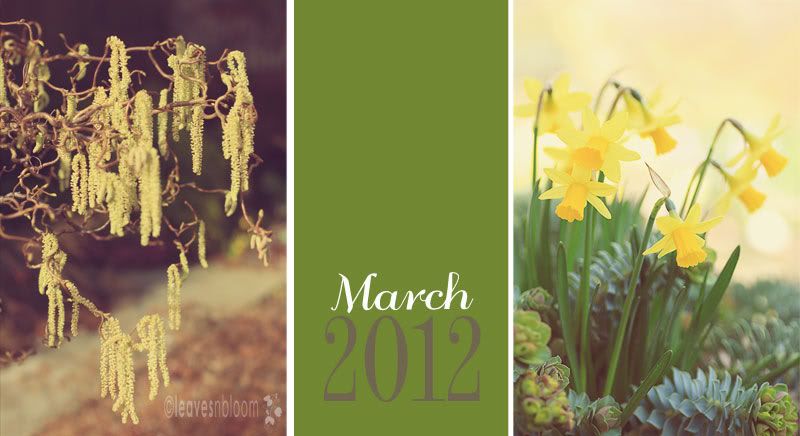 The main feature as you arrive at the garden is the Corylus contorta.  It has at least 500 plus lime green male catkins hanging against a gnarled silhouette of bare twisted stems. While there are lots of clumps of 'Tete a Tete' daffodils all over the borders. These ones have a carpet of Euporbia myrsinites at their feet. Most of my daffodils in this part of the garden are low growing ones as it always seems to be quite windy at this time of year. Especially with the equinox being not too far away. Growing smaller daffodils means less broken stems from wind damage. In addition it means less untidy dying leaves to look at after once they have finished flowering.
Daphne
A windswept Daphne mezereum  leans ever so slightly due to being planted in quite an exposed spot. It grows beside a backdrop of Helleborus niger 'Dewey's White' with its pink spotted inner petals. (By the way you won't find Dewey's White in the retail trade).
Pulmonaria
Pulmonarias
are all over the garden with my favourites just now being
Pulmonaria
 Raspberry Ripple
 right photo
and a very large clump of 
Pulmonaria
 Diane Clare
 left photo
. If you want a Pulmonaria to make a big impression in your spring border then go for 'Diane Clare' – it really does grow large and those silver leaves are so eye catching especially in a semi shaded spot.
Hellebores
Hellebores…and if you remember back on
15th November 2011
the Lenten Rose in the top right photo was featured back then. It's still flowering its little heart out four months later.
Crocus
Isn't this colour combination just amazing from these little crocus blooms.  This is one of my favourite crocus bulbs in the garden.
Primroses
I have lots of primroses and primula in the garden. They grow in an array of colours but none can compare to the buttery yellow blooms from  Primrose Emily. This primrose  is reliable and grows year after year no matter how severe the winter.
Finally just to add that the first of the tulips, forsythia and drumstick primulas will soon be in flower too.