I've got a question for you: When is a bee not a bee? …or maybe I should rephrase that and ask when is a fly not a fly? Answer: When it's a Bee-Fly  from the Bombyliidae family.  Last week during our Scottish spring heatwave there were a few opportunities to watch these little Perthshire Bee-Flies in action in the garden.  The Bombylius major look so soft and fluffy with great big dangling legs, a large straight proboscis on the front of the head, bold patterned wings, small pointed antennae, and they love to hover and buzz like a bee.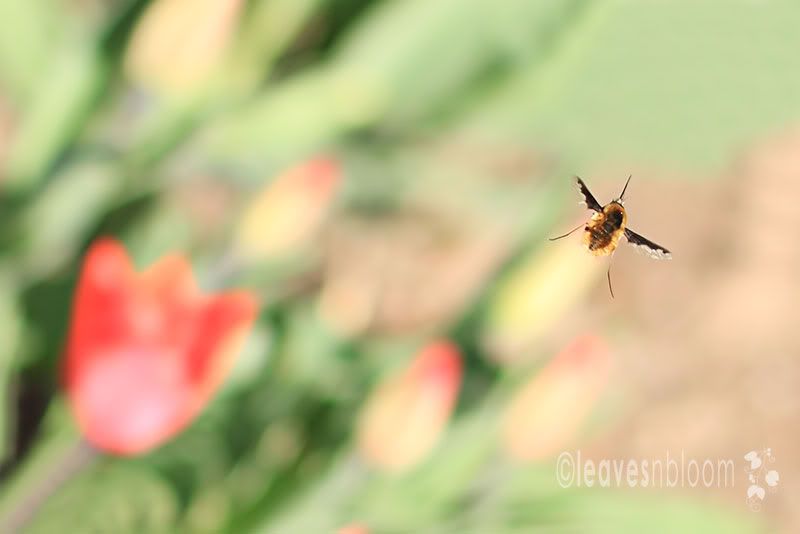 Bombylius major  Bee-Fly in mid air – body length approx 1cm
They are harmless to humans and don't sting and are a great pollinator but in the insect world these diptera are parasites and bee mimics. They flick their eggs in mid air and their larvae parasitize the underground nests of solitary bees', wasps' and beetles nests.
If the females are unable to flick their eggs near the nest they'll plant them on flowers visited by the host insects. The developing larvae then make their way to the host nest or attach themselves to the bees or wasps to then be carried to the nest. 
The Flight of the Bee-Fly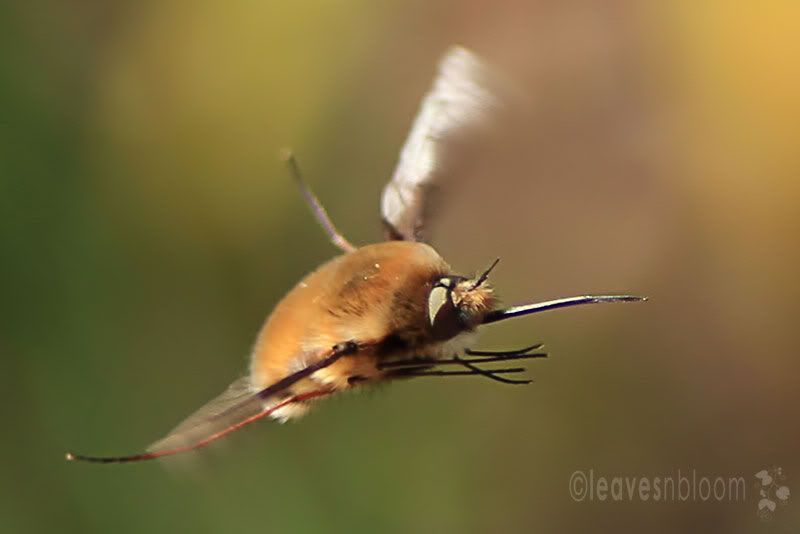 Bee-Fly aerodynamics
Getting  two flies in the one frame was just impossible……..they are stealth fliers after all. Anyone who has seen these flies in action knows that once they move or should I say dart up and down they do so at warp speed!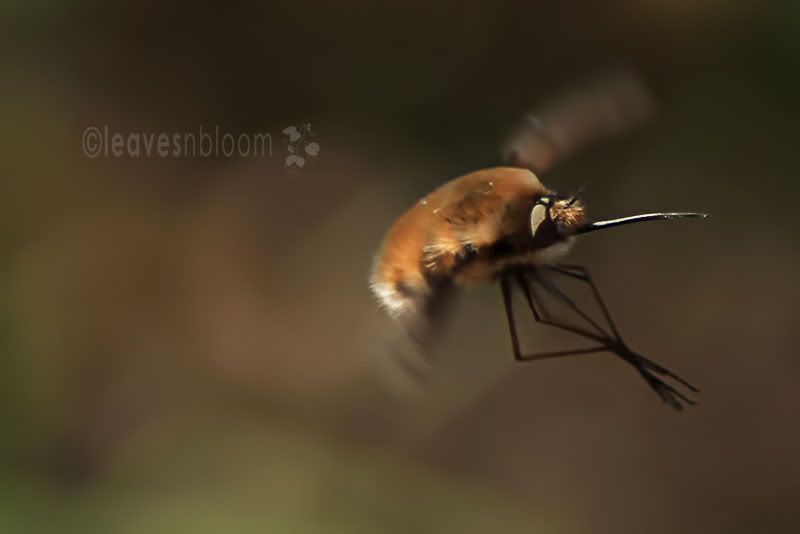 eyes close together – possibly the male  – thanks to BBC Springwatch for adding this photo to their favourites
I don't use automatic settings on my camera so along with adjusting for exposure as the light changed I was having to manually focus and it was a toss up on whether to keep the aperture wide at 2.8 and isolate the bee-fly or go smaller and draw attention to the background.  As you can see I kept the aperture wide shooting at f2.8 though it's at times like this that I wish my macro lens had image stabilization.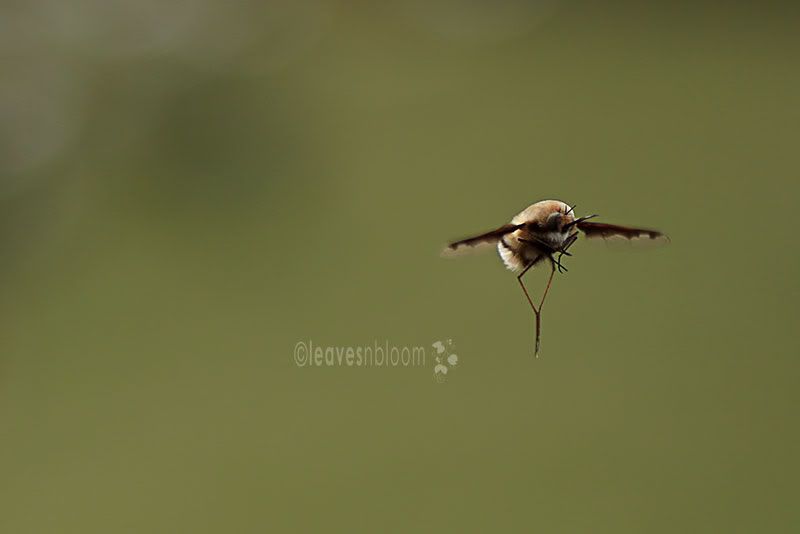 possibly the female due to her eyes being further apart…..
As I sat on the patio  I watched one of them in mid air about 3 feet above the flowers flick something down into the border…….something did fall from between those legs – I didn't imagine it– I saw it happen twice  though whether egg or pollen grain I'll never know.   Oh if only I had photographed it happening…..but here's the closest I got to capturing that moment though I had to crop the photograph so that you could see what I think is an egg.

I would need David Gibbs (our UK expert on Bombyliidae) to confirm this for me though.
Feeding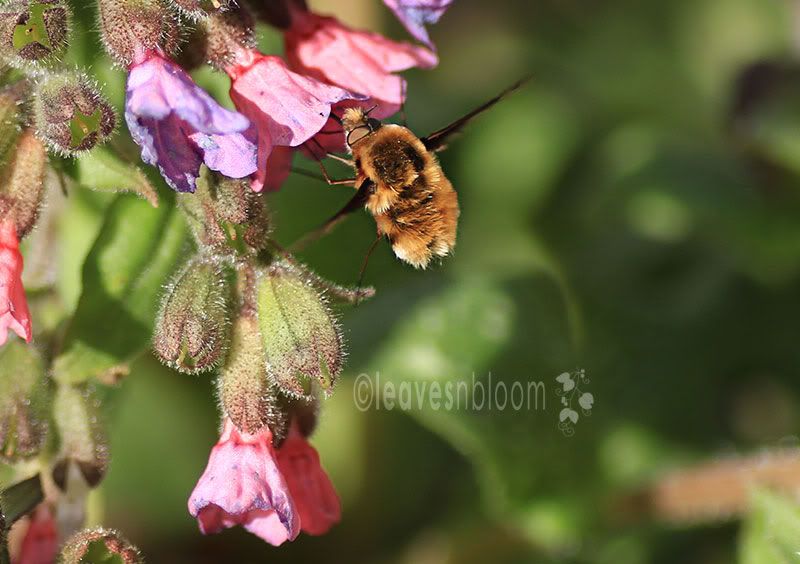 Bee-Fly feeding on Pulmonaria
They prefered to feed from the
Pulmonaria spring blooms
rather than my primula …………and this particular Pulmonaria plant is so popular with all the nectar feeding insects just now in the garden. Yet again it was impossible to have both of them in the same frame and I think these pulmonaria photos show the same bee-fly.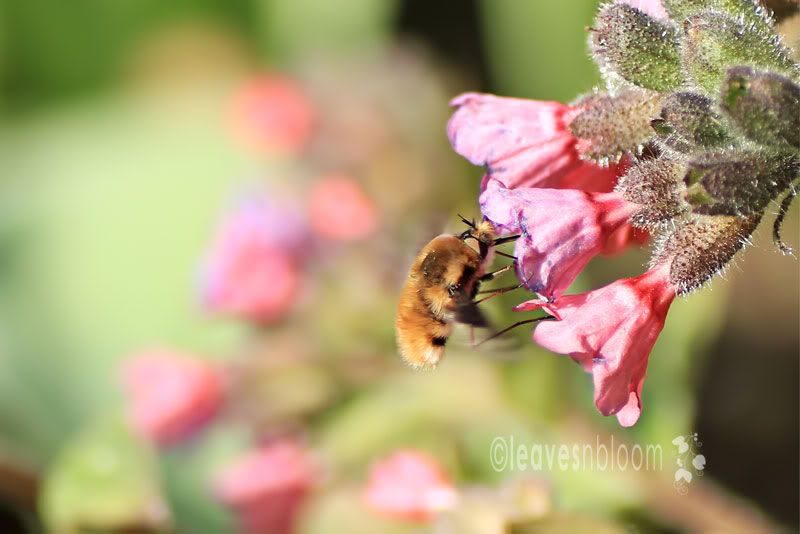 Bee-Fly feeding on Pulmonaria
Resting
Bee-Fly at rest on the bare earth
Sleeping????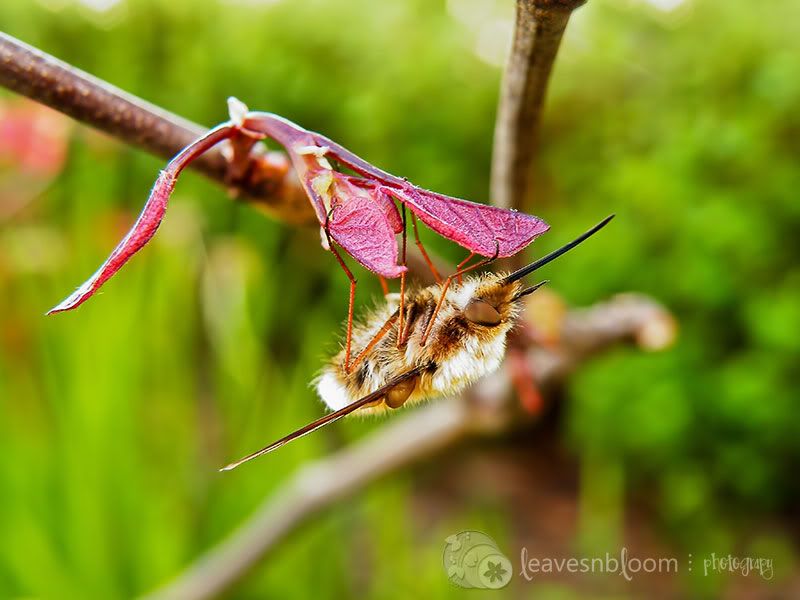 Bee-flies are not new to the leavesnbloom blog as
last Spring
I found one
I presume fast asleep
hanging upside down on my Cercis Forest Pansy!  and so easy to photograph with a small aperture this time around.
You'll probably have Bee-Flies in your own garden this spring and don't even realise it.