Who here will admit to buying garden plants on impulse?  Don't all shout out at once, but I've guessed it – you all have.  Well two years ago I couldn't resist a most unusual looking shrub called Corylus contorta Red Majestic.  Its cousin Corylus contorta otherwise known as Harry Lauders walking stick was already growing in the leavesnbloom garden and since I love ♥ dark leaf foliage plants  it just had to be bought.
All logic at this point went out the window and was replaced by sheer emotion.  I hadn't a clue where I would plant it. I didn't even think I would have room for it. But impulse has a great way of making us feel that we really NEED this! Plus it was HALF PRICE – a bargain!  Now that's an incentive I can't pass by plus it was the only one for sale in the nursery.

Anyway it could always be grown in a pot so off I headed to the checkout, adrenalin pumping.   Do you recognise that feeling?

Corylus contorta Red Majestic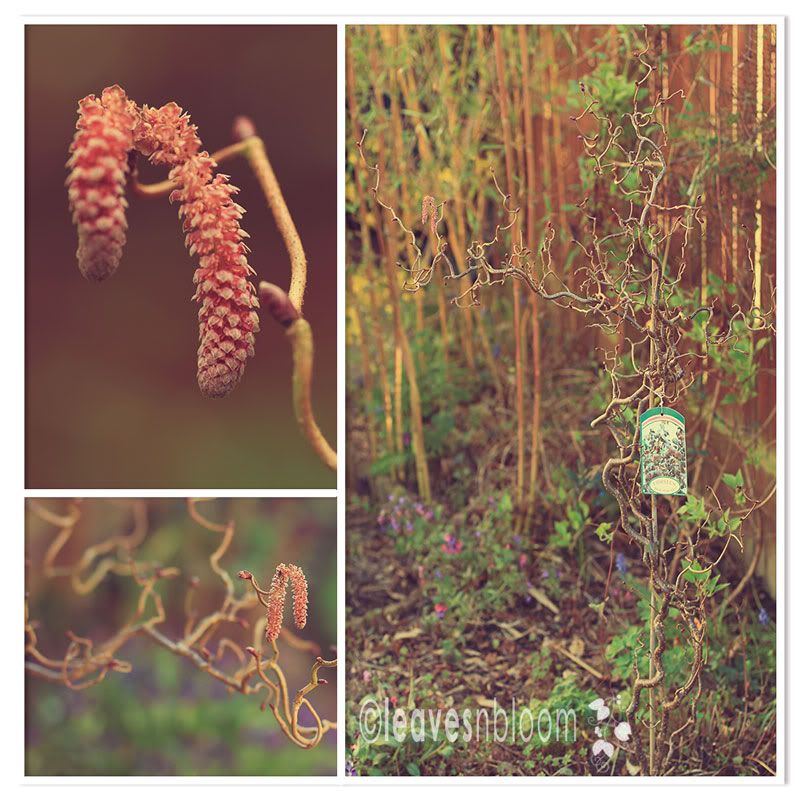 This plant has rich purplish burgundy corrugated leaves and twisted stems. Furthermore the leaves change colour throughout the season. Two years later and it has catkins …all TWO of them!  Unlike its cousin Harry Lauder – you need to be up close to even notice these spring flowering catkins. They are a rosy purple colour against the twisted leafless branches.
It's a slow growing shrub. But I did hope it would be a little bit more 'floriferous' or 'catkinous'  this Spring …like cousin Harry. Hopefully just finding one female flower on the shrub doesn't mean that Spring 2013 is going to be another poor year for catkins.
I know that buying on impulse isn't really advisable in gardening. Sometimes we regret those purchases later on . But so far I'm quite happy with the shrub though it will take years to make its presence felt in that part of the border.
The shrub likes moist but well drained soil. It prefers a semi shaded spot in the border too. Despite having few catkins this spring  it's still giving lots of interest in this part of the garden.  Though it has to compete with Pulmonaria, Winter Aconites, Brunnera and Fritillarias at its feet. While the vertical golden canes of bamboo in the background give contrast to its twisted bare stems.
What plants have you bought on impulse? Did they work out for you or did they prove to be an expensive mistake?