Have you ever found patches of yellow daisies Doronicum pardalianches while out walking in the Scottish countryside?
Be prepared
is the Perthshire motto just now as we equip ourselves with waterproofs, wellingtons and umbrellas to protect from the worst of April's daily deluges.  Gone is the suncream, the smell of barbeques  in the air, the blue skies and sunshine from March…
sigh
.  Though if you're brave enough to venture out on a walk you might see some rays of
wildflower sunshine
along the roadside verges.  Now I don't mean the dandelions or coltsfoot nor the fields of oil seed rape which are all in bloom just now but the Giant Leopards Bane.
photo taken in between the showers last Saturday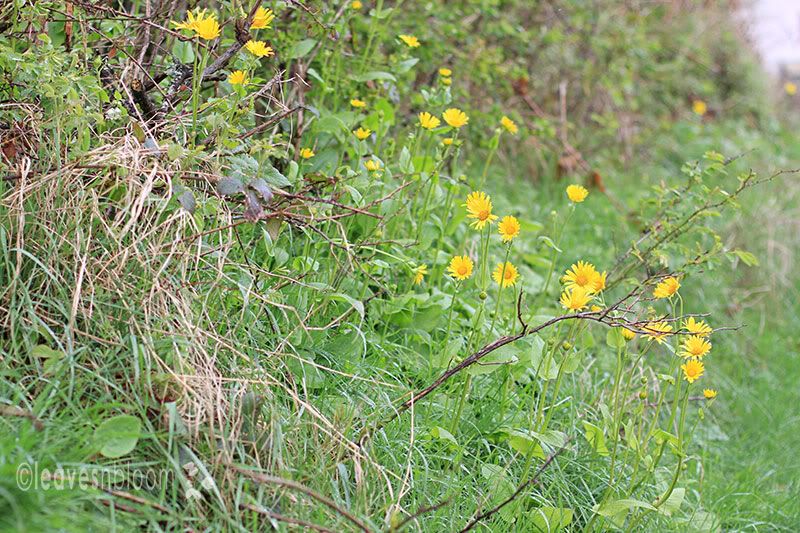 Growing on a steep roadside verge
Doronicum pardalianches is a fully hardy perennial and a member of the Asteraceace family.  It grows around 2-3 feet tall and has between 2-5  bright yellow single daisy flowers  per stem with heart shaped toothed leaves. The plant was first introduced to the UK in medieval times as a medicinal herb. In fact it has now naturalised across most of Eastern Scotland.  It was thought that it gave men the power to destroy wild beasts. Hence it's common name Leopards Bane. It also was used as a poison and added to raw meat for bait. (from the Journal of the Royal Society of Medicine)
You can find it growing  on the edges of woodlands. As well as on grassy roadside verges. Moreover not far from home it turns one steep roadside bank into bright yellow from late Spring into early May.  Here it drifts undisturbed in dappled shade as it is detested by the rabbits and deer that graze in the surrounding fields.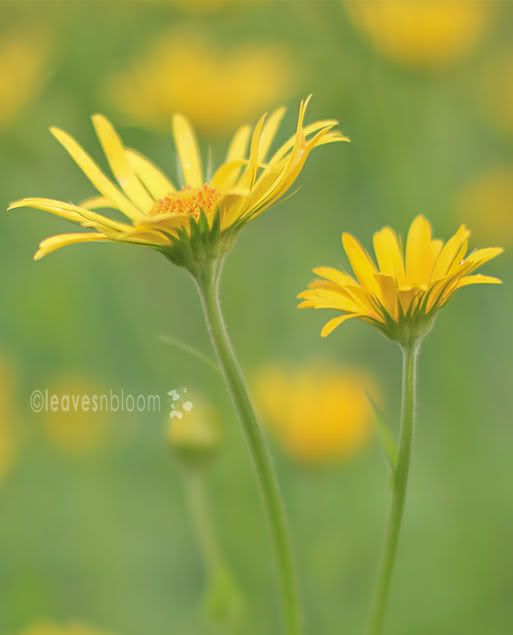 Giant Leopards Bane –  Doronicum pardalianches.
Doronicum pardalianches is very bee friendly.
If  you're troubled by rabbits and deer this is a great choice for a woodland garden or cottage garden. It's shallow rooted and spreads by rhizomes. Though it could become invasive if the conditions are just right. But nothing that a spade can't sort out.
Just as the daffodils finish flowering the Giant Leopards Bane will continue the yellow colour theme in the garden into May.  If planted among the daffodils it can also mask their dying leaves. It would also look good grown with our native blue forget me nots  – Myosotis.
native blue forget me nots  – Myosotis –  a good companion plant
A More Tamed Plant?
If you want a more 'tamed' Dorinicum there are many cultivated varieties sold in nurseries and garden centres. Examples like  'Little Leo' and 'Miss Mason'. However you'll  need to be quick though as these plants are usually only for sale in the spring and early summer.  By the middle of summer the plant has gone dormant and the foliage has completely disappeared until next spring.