Let me take you on a walk through Bluebell Woods Dalcrue in Perthshire.  Let the worries of the day be forgotten and let nature grasp your full attention and feed your senses.  Slowly walking amongst the
wildflower bluebells
is captivating. Likewise not only does it stimulate the mind but also the heart.  It makes you think back to childhood days of fairytales. Along with little nymphs and fairies/faeries that were once so popular in Scottish Highland mythology. In fact made famous by the 17th century writings of the Reverend Robert Kirke.  Little bells that in superstitious folklore were said to be rung by fairies to call fairy meetings. Though if a human heard the bells ring they would fall under the fairies enchantment.
Bluebell Wood meandering path
Bluebell Woods Dalcrue
Well if you're in Perthshire over the next few weeks you're in for a glorious and enchanting sight as our native Bluebells – Hyacinthoides non-scripta are starting to bloom. They're an iconic spring bulb that en masse turn our local ancient woods in May into a haze of purple and blue spires.  The wildflowers take advantage of the leafless canopy from the native broad wood trees. As a consequence they grow, flower and finally set seed just as the foliage canopy above cloaks the woodland floor.
Bluebells – Hyacinthoides non-scripta | Endymion non-scriptus
Undeterred by keeled over trees their lush and narrow green leaves hug the very steep wooded hillside that leads down to the River Almond.  While their spires of purple and blue gracefully curve to one side laden with little bell shaped flowers.
Bluebell Woods Dalcrue – Native Broad Wood Trees
The best way to view a Bluebell Wood is to get down on your knees as the blue flowers merge into one large carpet of plants and it's just so mesmerizing!
A blue haze of native wildflowers with a faint scent of honey
The Poetic Touch
Gerard Manley Hopkins the Victorian poet loved our native bluebells.
 Panpipes or trombones with overhung necks and crisp ruffled bells.
Bluebell Woods Dalcrue – Crisp ruffled bells
"They give one a fancy of panpipes and of some instrument with stops, a trombone perhaps. The overhung necks – for growing they are a little more than a staff with a simple crook put in water, where they stiffen, they take stronger turns, in the head like sheephooks, or, more is waved throughout, like the waves riding through a whip that is being smacked – what with these overhung necks and what with the crisp ruffled bells dropping mostly on one side and the gloss these have at their footstalks they have an air of the knights at chess." (Hopkins, Journals, Ideas and Poetry).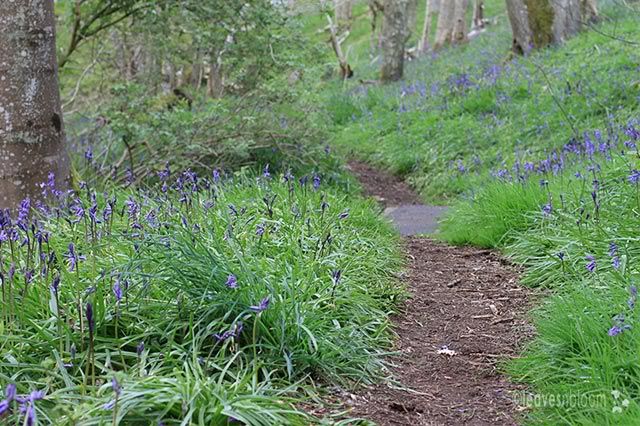 Bluebell Woods Dalcrue – Fairy Flowers
"Bluebells in Hodder wood, all hanging their heads one way. I caught as
well as I could while my companions talked the Greek righteousness of
their beauty, the lovely – what people call – 'gracious' bidding one to
another or all one way, the level or stage or shire of colour they make
hanging in the air a foot above the grass, and a notable glare the eye
may abstract and sever from the blue colour – of light beating up from
so many glassy heads, which like water is good to float their deepest
instress upon the mind." (Hopkins, 1873)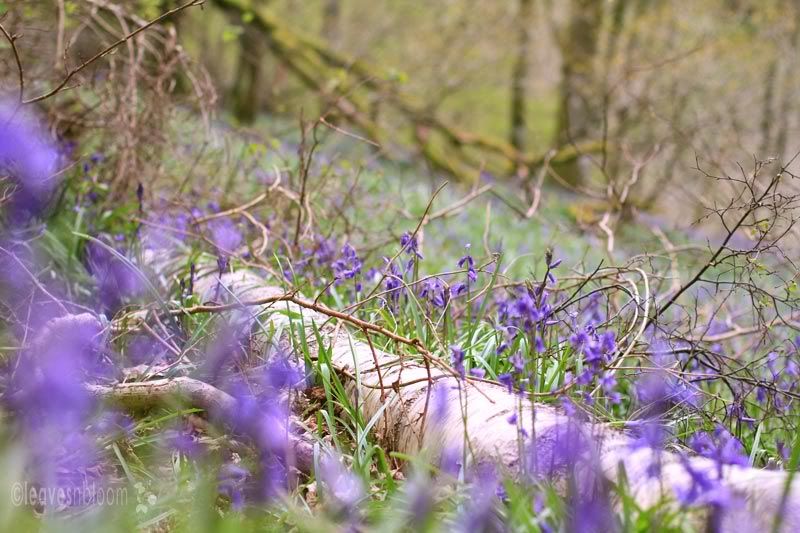 Falls of sky colour
 "In the little wood opposite the light they stood in blackish spreads or sheddings like spots on a snake. The heads are then like thongs and solemn in grain and grape-colour. But in the clough through the light they come in falls of sky-colour washing the brows and slacks of the ground with vein-blue, thickening at the double, vertical themselves and the young grass and brake-fern combed vertical, but the brake struck the upright of all this with winged transomes.

It was a lovely sight. – The bluebells in your hand baffle you with their inscape, made to every sense. If you draw your fingers through them they are lodged and struggle with a shock of wet heads; the long stalks rub and click and flatten to a fan on one another like your fingers themselves would when you passed the palms hard across one another, making a brittle rub and jostle like the noise of a hurdle strained by leaning against; then there is the faint honey smell…….."(Hopkins, 1871)
A Sea of Bluebells
The bluebells are still quite flower shy here in Perthshire due to the unseasonal cold, dull and wet weather. But hopefully by the third week in May they'll be reaching their peak. That means that you've still got some time to seek out a Bluebell Wood near you. There are plenty of walks to choose from though our local secluded Bluebell Wood isn't on the Perthshire tourist trail.