What April flowers are in your garden? If you're looking for some inspiration as to what to grow in your garden this April I've picked out a few of my favourites. April is a month that can have its surprises and our record breaking temperatures in March didn't last. Furthermore there was a dramatic turnaround just like my wardrobe. As a result out came the hat, scarf and gloves. In fact we woke up to snow and minus figures on the thermometer. Likewise that would make any gardener cringe at this time of year. Vengeance took its toil on many of the flowers as they battled with the snow, heavy frosts. And then came those April showers …of hail!
Despite the chilly temperatures we gardeners are a very resilient lot. Consequently we are armed with horticultural fleece. We don't let the weather deter us …though we may end up with a few blemished blooms. Anyway here's my selection of Spring blues, mauve and purple. In fact if you click on any of the blue url links within the post you'll be taken to a more detailed post on that plant.
The winning plants for encouraging the wildlife these past few weeks have been:
The old cottage garden Pulmonaria officinalis and the amazing aerodynamic bee-flies.
The nectar rich Lathyrus vernus which the bees have been drooling over as you'll see in the middle collage picture below (middle collage photo taken last week but flowers still in bloom today).
April Flowers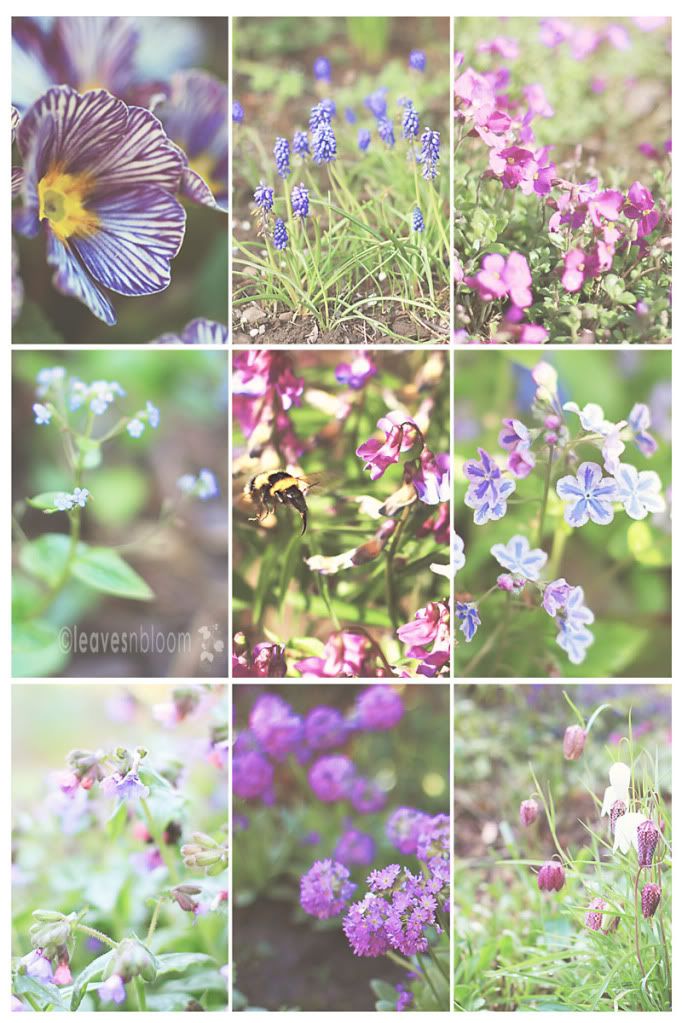 Top row left to right:  Primula 'Greensleeves'  mix, Muscari, Aubretia
Middle row left to right: Brunnera 'Jack Frost', Lathyrus vernus and
Omphalodes cappadocica 'Starry Eyes' – Navelwort
Bottom row left to right: Pulmonaria officinalis, Primula denticulata, Fritillaria meleagris –  Snakes Head Fritillary.
Pulsatilla vulgaris  looking as fuzzy wuzzy as ever is in full bloom today.
Forsythia, Silver Pear tree blossom  and some of the Cherry blossom are almost hidden now by the lush new spring leaves. While many of the tulips still have weeks of blooming ahead.
These photographs were taken between 7am – 8am  Saturday 14th April …just as well as by lunch time we had hail again!
Top left: lily flowering scented Ballerina tulips
Bottom left: Narcissus 'Pipit' – species, fragrant and multi headed
Tulip: unknown variety
Top right: Euphorbia myrsinites – myrtle spurge, Pulsatilla vulgaris alba – Pasque Flower
Middle: Spirea ajuta
Bottom right – Erysimum cheiri – Wallflowers
April Foliage
But wait … we can't forget about all the wonderful foliage that's starting to emerge.
with the most impressive just now being the Sobaria with its fresh pink feathery leaves.